The Dartmoor Railway Association
Supporting the Dartmoor Line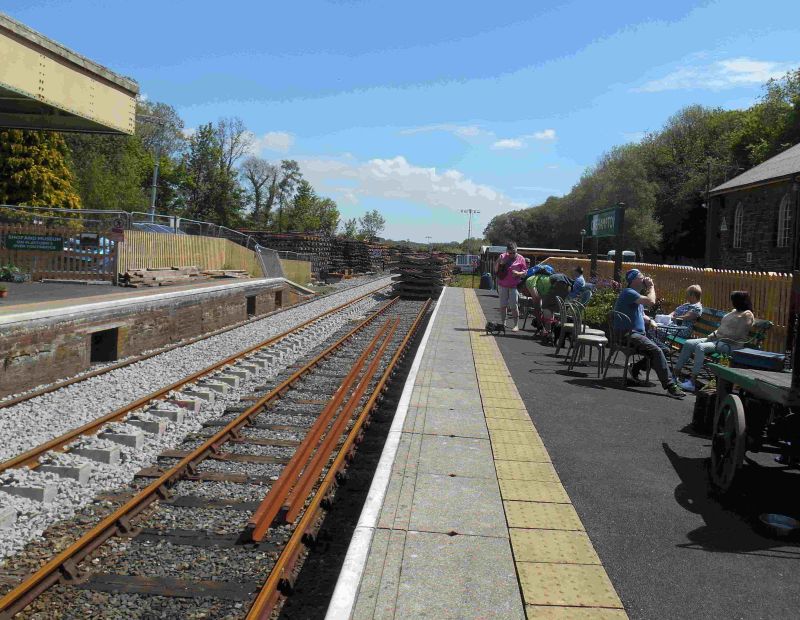 Okehampton Station open to the public for the first time since the end of 2019.
Photographer: Sue Baxter
Date taken: 29/05/2021
Welcome to the website of the DRA. We are an all-volunteer organisation dedicated to supporting the former LSWR/Southern railway between Meldon Viaduct and the site of the former Coleford Junction, centred on Okehampton Station.
We enjoin our members and supporters to comply with the government's advice during the Covid-19 crisis, and to do everything possible to keep themselves, their loved ones and the community safe.
Operator of the railway since 2009, the Dartmoor Railway Community Interest Company went into administration in February 2020. The rolling stock assets of the former DRCIC have been disposed of by RMS Locotec.
On October 12th 2021 it was announced that regular Okehampton - Exeter services will recommence on November 20th. They will be operated by GWR and marketed as The Dartmoor Line. (See news page). The line and the up side of Okehampton Station have been transferred to Network Rail; the down side remains with Devon County Council, the buildings occupied by DRA. The new service has a dedicated website, dartmoorline.com.
As yet the future of the Okehampton to Meldon section is unclear.
---
Change of name
In May 2021 we dropped the word 'Supporters' from our name, and are now just the Dartmoor Railway Association (DRA). References to DRSA in the website refer to our earlier identity. Our new domain name is .dartmoor-railway-association.org, and for 12 months, emails and website calls will be redirected from the old domain to the new one. Thereafter, any browser shortcuts/bookmarks and email address book entries using the old domain will cease to work, so please amend or renew them as soon as possible.
---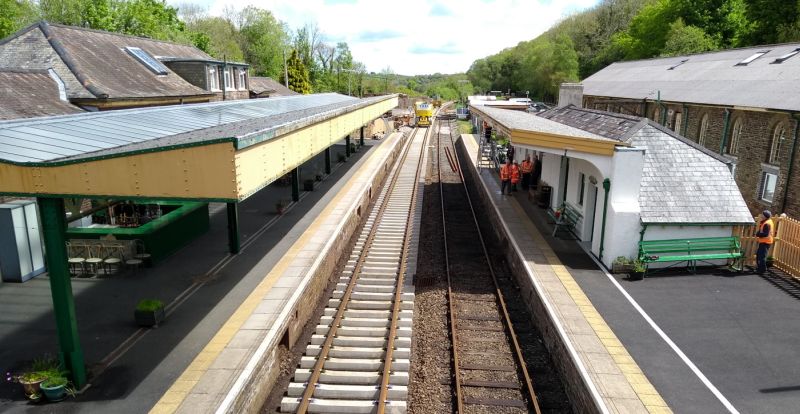 Photographer: John Caesar
Date taken: 19/05/2021
---
Letter published in the Railway Magazine for December 2008:
"I am glad to be able to tell readers that life is returning to Okehampton station. A mini-buffet operated by volunteers has been doing a 'roaring trade' over the last few weeks in connection with the Sunday Rover trains from Exeter, the platform posters are reinstated, and once more there is a sense of bustle about the place. Dartmoor Railway has a new owner and the Friends of Dartmoor railway are recruiting again!" It was signed by David Clegg, who we're pleased to say is still serving the DRA committee 12 years later. It looks as if Dave's optimism will be justified second time round.
---
Our website isn't very smart or cool, but we try hard to keep it up to date, informative and free of errors, without taking ourselves too seriously. Constructive criticism is always welcome. Please send comments, suggestions, complaints and, above all, praise, to
info@dartmoor-railway-association.org
.
We suggest that regular visitors start at the
Website Updates
page, to see what's new since the previous visit.
We are also on
Facebook
, and are trialling a
Twitter page
.
Our
EasyFundRaising
account enables you to donate to DRA at no cost to yourself when you shop online. Please consider using it.
---