Meldon Viaduct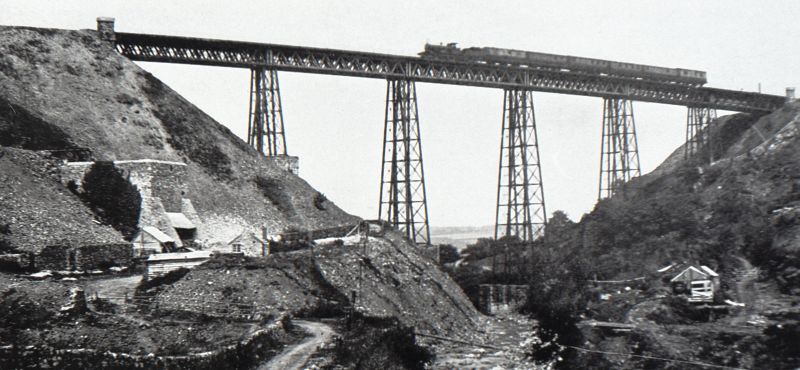 Highways England will need a shedload of concrete to infill this one.
Meldon Viaduct (bridge 613) was built in 1874 when the London and South Western Railway (LSWR) needed to cross the steep valley of the West Okement as they pushed south from Okehampton to Lydford. It was built with riveted wrought iron lattice piers, and, as one of only 2 remaining railway bridges in the UK using this form of construction, it is protected by English Heritage Scheduled Ancient Monument status. (The other is the 1877 Bennerley Viaduct over the Erewash between Nottinghamshire and Derbyshire). The trusses are Warren girders, in which sloping members are set between horizontal top and bottom members, with no vertical elements.
It was originally built for a single track railway, but in 1878 double track was required, so in effect a second bridge using welded steel piers was built on the east side of the original, and the 2 bridges were braced together. At various times in its life it was reinforced to cope with the weight and speed demands of the traffic of the day. It spans over 160m and is up to 45m above the valley floor.
One theory why the LSWR's engineer William Robert Galbraith didn't build a masonry bridge like many of the others on the line is that a girder bridge has less resistance to the prevailing high winds in this exposed position.
Traffic beyond Meldon ceased in 1968, although the viaduct remained in use as a headshunt for the quarry trains. The down (east) line was replaced in 1970 by a concrete track for lorries carrying construction material for Meldon Dam, and the up line rails were lifted in 1990. It became part of the Granite Way in 1996.
The Meldon Viaduct Company, a non-profit making company representing Aggregate Industries, Devon County Council, West Devon Borough Council, Dartmoor National Park, Sustrans and formerly Dartmoor Railway, was formed in 1999 to safeguard the structure.
Graces guide
entry for Meldon Viaduct.