Pictorial
Some images of our railway in the past. Contributions are very welcome, the older the better.
Okehampton 1969
We have been enjoying the work of Gary Smith of GDS Railway Photography; in particular the page of pictures taken at
Okehampton Station
in 1969.
After looking at the pictures, Tony Hill commented "the signalman shown is Charlie Mellet (or Mellett) a one time GWR Relief Signalman who worked all over the GW/WR in Devon and Cornwall. After Okehampton signalbox closed he transferred to Exeter Central A box (where I used to visit him in the early 70s) and then lived in Exeter. He lived to a great age - he must have died about 20 yrs or more ago. One picture includes the Scribona cakes delivery van based at Okehampton Station, which delivered to a large area. One or two BD Containers on Conflats arrived each week from, I think, Ashford."
The rest of Gary's website is well worth further exploration. Local members will be particularly interested in the page of photos of
Meldon Junction
taken in 1969 and 1970.
Okehampton Station 1983
We are grateful to Adrian Bradshaw, who co-runs
Railcam UK
, for the following 3 photographs taken at Okehampton Station by Karl Johnson in March 1983. It looks pretty down at heel, but essentially sound. There must have been regular Meldon stone traffic at the time. The footbridge was still largely glazed; it didn't take long for it all to disappear afterwards.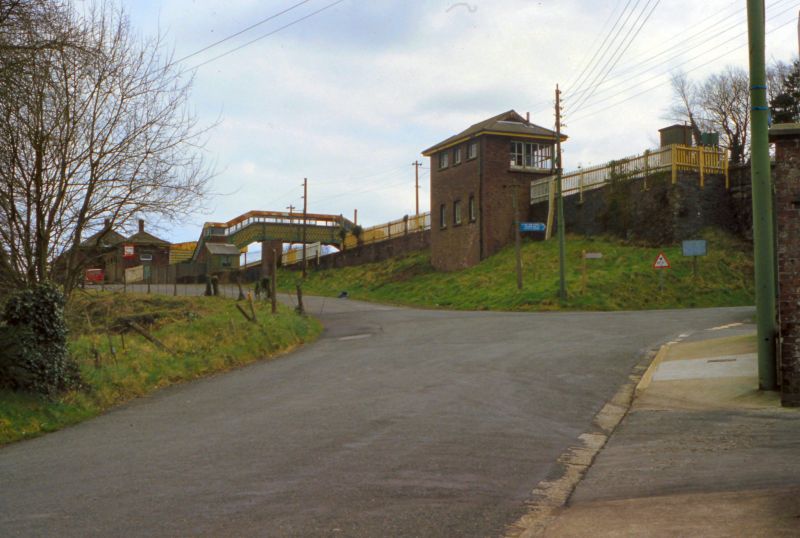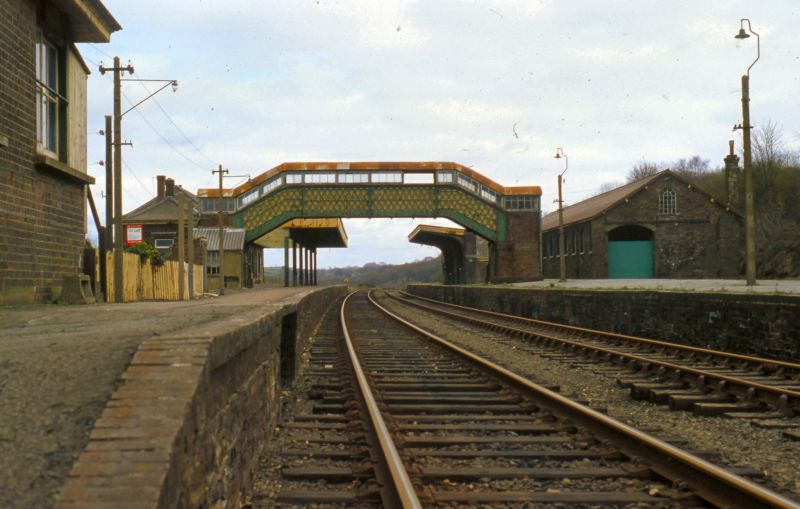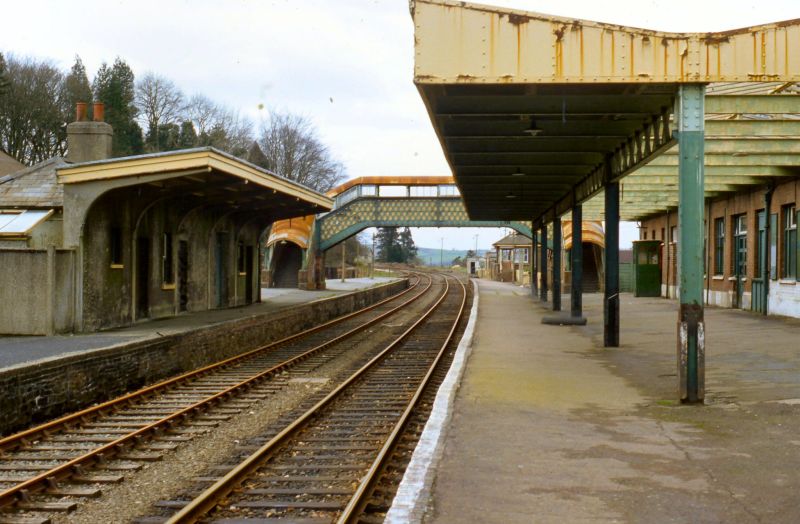 When I posted these pictures, I asked the question: Does anyone know what the green kiosk on Platform 3 is? Tony Hill responded first, speculating that it might either be a Ticket Examiners hut, or a telephone kiosk for traincrew to contact Crediton Signalbox. Tony also pointed out the To Let sign on the main station building, and suggested the station was still open for occasional freight traffic as late as 1983.
Subsequently we received this message from another long standing member, Paul Voaden:
"The green kiosk on platform 3 was for announcing the train arrivals and departures on the public address system. The microphone was in there and possibly the amplifier. I think it was installed after the war, possibly 1949 or thereabouts?
I do remember one frantic announcement made in broad Devon: 'Okehampton, Okehampton change yer for Bood and North Cornwall – Quick!' I imagine the down Plymouth train was running late.
I hope this is of some interest, I would be interested if anyone else has any further recollections."
Further input has arrived (Jan 20th) from Bruce Fraser:
"The green kiosk on the platform is probably the one that served as the Ticket Collectors Kiosk that was located adjacent to the platform exit doors on platform 3. It had the platform weighing machine located behind it and between the doors for the Parcels Office. The Kiosk also served as the Announcers cabin for the public address system, announcements being made by platform staff. The P.A. system was removed, if I recall correctly, after the Plymouth services ceased.
The Kiosk remained on the platform after closure and I think had a telephone in it for the use of the Permanent Way Gang who remained based at the station for some years after the passenger service ceased. Their yellow work bus / van was kept parked in the bus bay when not in use.
I hope that clears up that little mystery for you."
Military Sidings 1972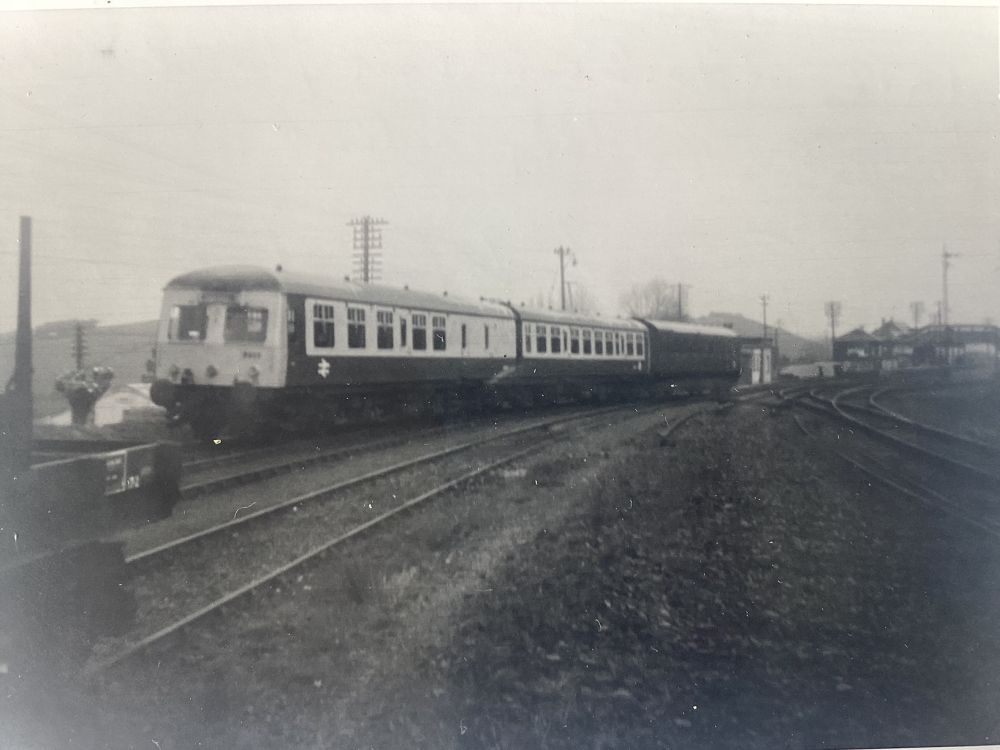 Class 120 2 car DMU set with Drive End Trailer in the Okehampton Military Sidings
Photographer: Tony Hill
Date taken: 20/05/1972
Thanks to Tony Hill for this very rare photo of a DMU in Okehampton Military (Up) sidings, taken at 0630 on Ten Tors Start Day, Saturday 20th May 1972.
It is in the Up sidings because, having arrived at Okehampton as the 0415 Passenger and News from Exeter St. Davids, it had to be cleared out of the way of the following freight from Exeter Riverside (worked by D7503) which then shunted the goods yard and returned with about 50 empty Vanfits to Exeter before the DMU formed the 0720 to St. Davids.
In the left foreground is the end of an empty Bogie Bolster wagon, one of several at the time sent out to Okehampton for stabling for some weeks, because of the lack of demand by steelworks for loading.
Okehampton Station 2006
Our regular C&W (and other topics) correspondent David Bell has come across a nice set of photos taken in 2006, of the railway in ECT days. Of particular interest is the picture of the platform 2 building having its roof rebuilt, and the 2 pictures showing a track machine in a very tidy bay siding. The former also shows the rear end of a tank engine which must be 'Darfield No 1', a 1953 built Hunslet 0-6-0ST, named for its service at Darfield Main Colliery near Barnsley. The photos can be seen
here
.
1980s railtours
Our thanks to Guy Vincent for these images of railtours at Meldon Quarry.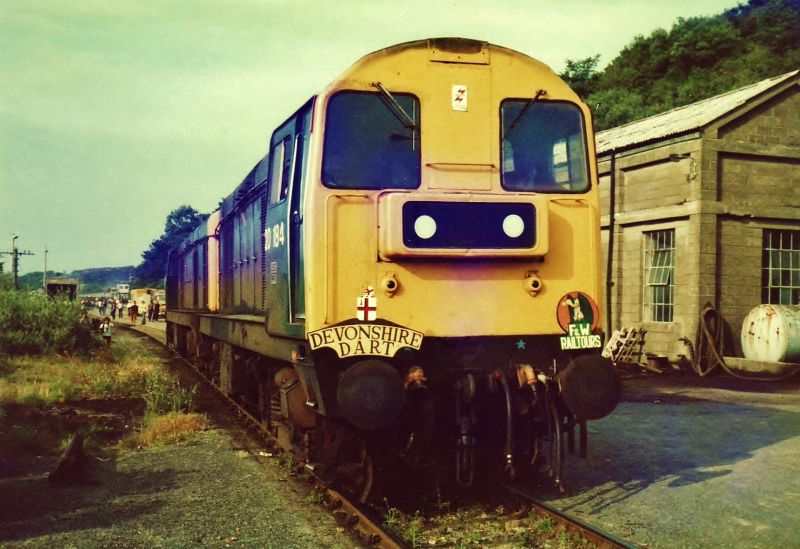 20184 and 20169 with F&W's 'Devonshire Dart' railtour
Photographer: Guy Vincent
Date taken: 08/07/1984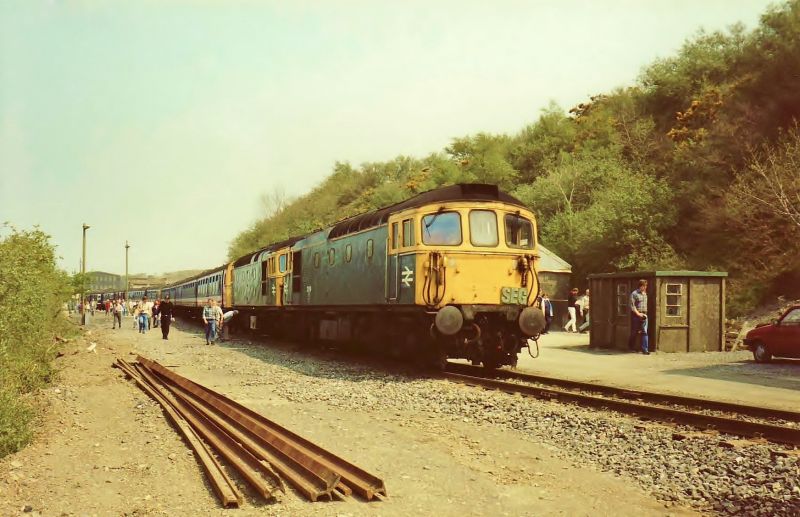 33119 and 33106 on 1Z30 0821 London Waterloo-Meldon Quarry with the Southern Electric Group's 'Tortuous Tortoise' railtour.
Photographer: Guy Vincent
Date taken: 06/05/1989
Military train March 1977
A returning Territorial Army special from Okehampton to Sunderland worked by a class 47 loco with 10 MK I coaches, seen between North Tawton and Bow near Halse Moor, March 1977.
Photographer: Tony Hill
Date taken: 00/03/1977
Okehampton 1961
This was recently (August 2017) very kindly donated. If anyone knows who took it, please let us know. There's not much left of this scene now - just the odd clue. Can anyone explain why the tall signal post with repeater was necessary, or what was the likely content of the drums?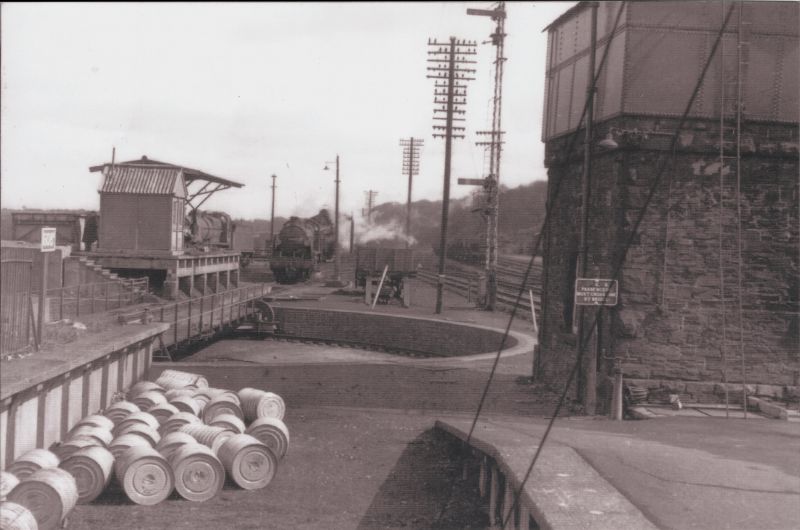 Maunsell N class no 31406 approaching the Okehampton turntable in spring 1961
Photographer: Unknown
Okehampton 1961 postscript 2 (24/06/2020)
Our thanks to Bruce Fraser for the following reflections:
"I have noticed that there is often a debate about why there was the tall co acting starting signal on the Up platform at Okehampton.
It was indeed all about sightlines. Referring to the top 1961 photo, showing the oil barrels and the Water Tower, this is well illustrated. The signal post was located literally yards behind the water tower, and was the main obstruction to the sight lines, but the footbridge also would not have helped. This had also been explained to me as an youngster by one of the signalmen, Charlie Mellett, who was a neighbour and would on occasions show us how the signalling worked.
It is worth noting that the Tall Up signal had its top co-acting arm removed not so long after the water tower was demolished, whereas the Down starting signal stood tall with its co-acting arm to the end. By coincidence, I was walking home from school a day or so after the Signal Box closed and as I walked past Gunns witnessed the lattice post as it was unceremoniously felled, falling in the direction of Meldon. A sad sight.
I have always thought that the barrels contained - or perhaps once contained - lubricants for use at the loco shed. Richard Westlake might be in a better position to clarify that, as he started work at Okehampton Shed before being transferred to Swindon.
As an aside, if there is ever the opportunity to rebuild the Water Tower, you will find the masonry conveniently close by, it was dumped into the turntable pit!"
Okehampton 1961 postscript 1 (27/08/2018)
In response to the question posed above about the need for a tall repeater signal, we have received a response from Chris Osment of West Country Railway Archives (
www.railwest.org.uk
):
"Almost certainly due to sighting problems for approaching Up trains, because of the footbridge and/or up platform canopy in rear of the signal. A very common feature on ex-L&SWR lines to have a tall post with two co-acting arms in such cases. Top arm for sighting from a distance, useful for trains not booked to stop, lower arm for easy visibility by driver of a train stopped at or near the signal.
There had been a similar arrangement with the Down Starting signal."
Our thanks to Chris for getting in touch.
As a further postscript to this item, we now have in our possession what we believe to be the finial from the top of the signal.
Chris subsequently sent us the following picture, in which you can just discern that the tall Up Starter signal has been reduced to normal height. With through trains ended, the top arm was redundant.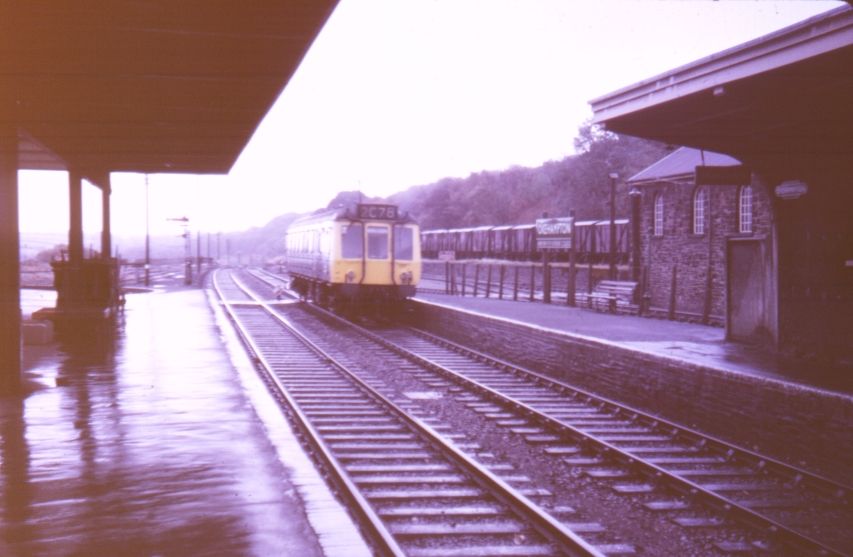 1970/71 picture of a 'bubble-car' DMU at Okehampton, in standard weather.
Photographer: Chris Osment
Westerns South Western railtour October 30th 1976
The following 3 photos, received via Tony Hill, are copyright and reproduced by kind permission of Grenville R Hounsell.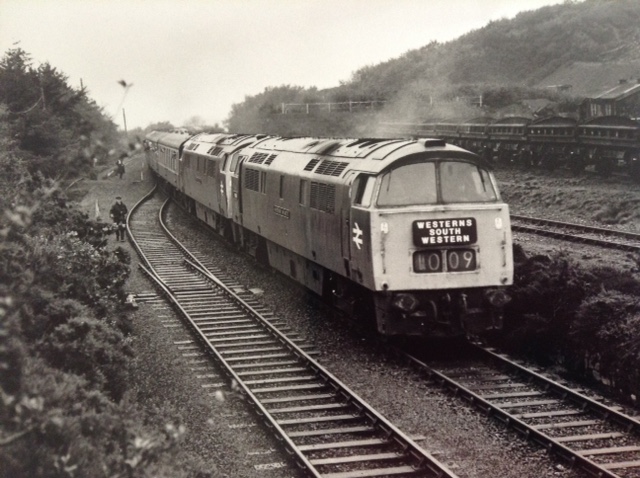 0820 Charter from Paddington 1Z08, arrives at Meldon Quarry worked by D1009 'Western Invader' and D1023 'Western Fusilier'. Note the empty side tipping 'Mermaid' ballast wagons; a few of these survive on Heritage Railways.
Photographer: Grenville R. Hounsell
Date taken: 30/10/1976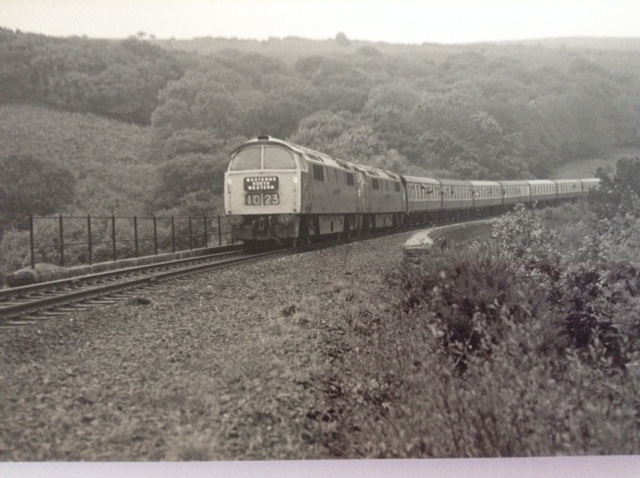 The return train clearly seen on Fatherford Viaduct; note the absence of the Okehampton Bypass/ A30 dual carriageway.
Photographer: Grenville R. Hounsell
Date taken: 30/10/1976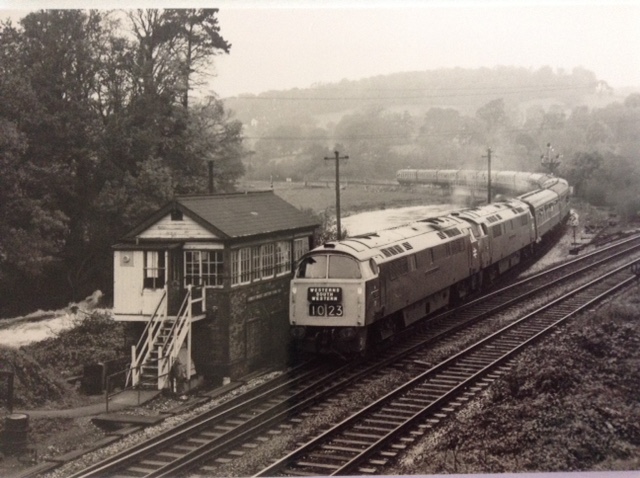 The return train of 12 MK I coaches seen at Cowley Bridge Jn, before running via Exeter Central and the Southern to Basingstoke, thence to Reading and Paddington.
Photographer: Grenville R. Hounsell
Date taken: 30/10/1976
Meldon Quarry 1979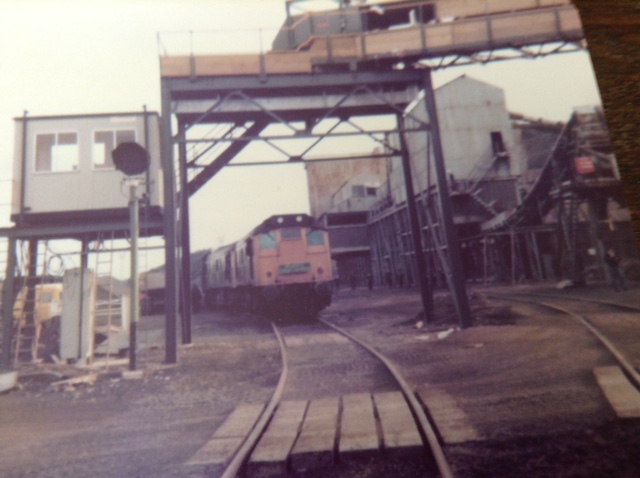 Class 25s 25052 and 25223 at Meldon Quarry with the overnight Wirral Railway Circle Charter train from Crewe to Meldon Quarry and Meeth.
Photographer: Tony Hill
Date taken: 20/10/1979
Continuously Welded Rail for the Dartmoor Railway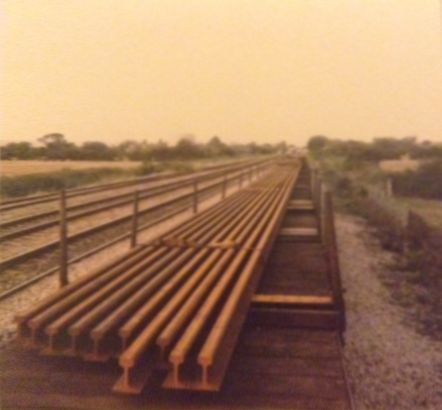 Photographer: Tony Hill
More from the Tony Hill Archive. This is the train in the Autumn of 1983 from the then BR WR Hookagate Rail welding depot near Shrewsbury, conveying serviceable 60' flat bottom rails welded into 900ft lengths that were for use at Coleford on the Okehampton line curve. The train is seen recessed in Yatton down loop with a hot box awaiting C&W attention before it could proceed to Exeter Riverside Yard.
Okehampton August 8th 1991
Colin Burges took these on the day of Okehampton Show. The railway had been closed to passengers for nearly twenty years, and the idea and the name of the Dartmoor Railway had yet to be conceived. There was much less vegetation, more sidings and other infrastructure, but the buildings were derelict. Which do you prefer - then or now?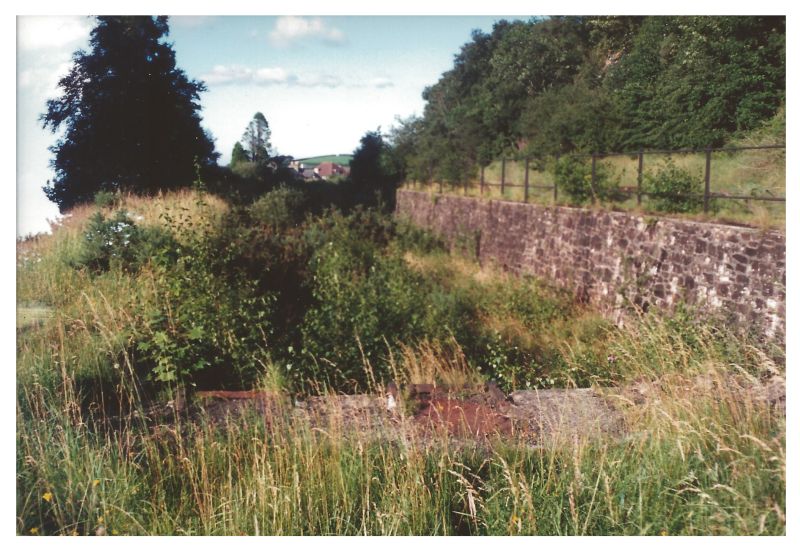 The loading dock of the Okehampton military sidings. The line climbs towards Meldon above the wall on the right.
Photographer: Colin Burges
Date taken: 08/08/1991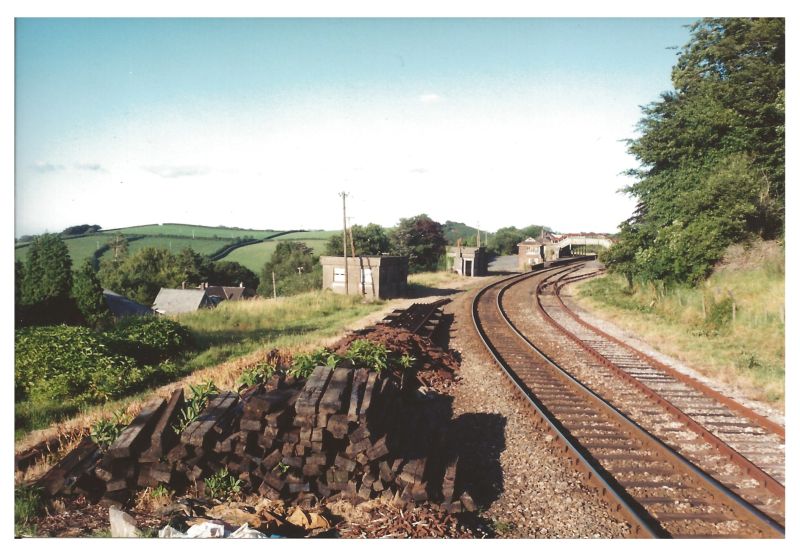 The Meldon end of Okehampton Station
Photographer: Colin Burges
Date taken: 08/08/1991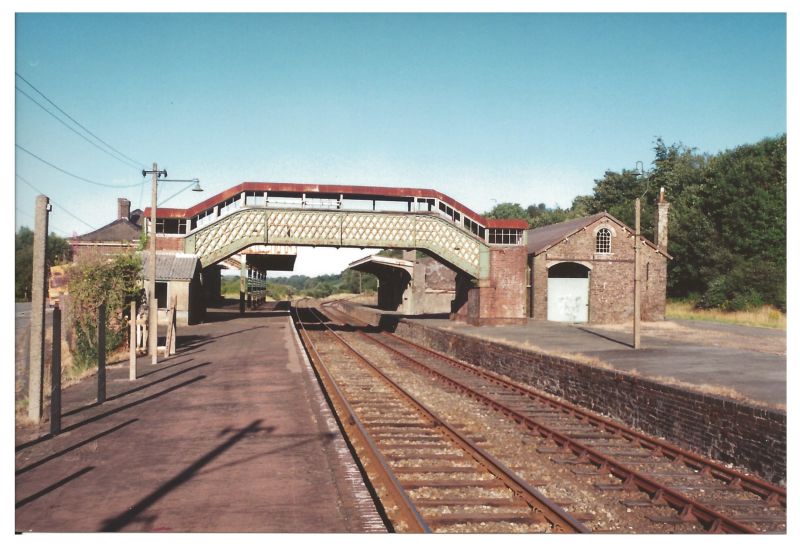 Okehampton Station in a timewarp, abandoned but intact, mercifully free of vandals.
Photographer: Colin Burges
Date taken: 08/08/1991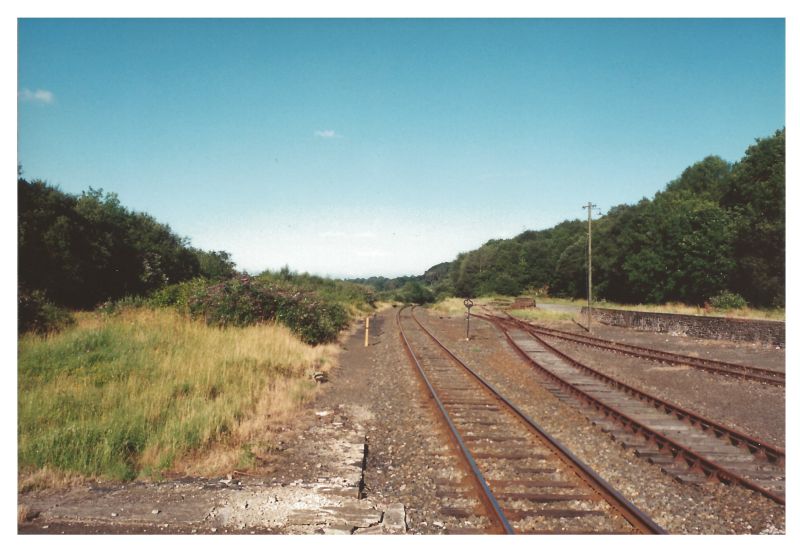 The Waterloo end of Okehampton Station
Photographer: Colin Burges
Date taken: 08/08/1991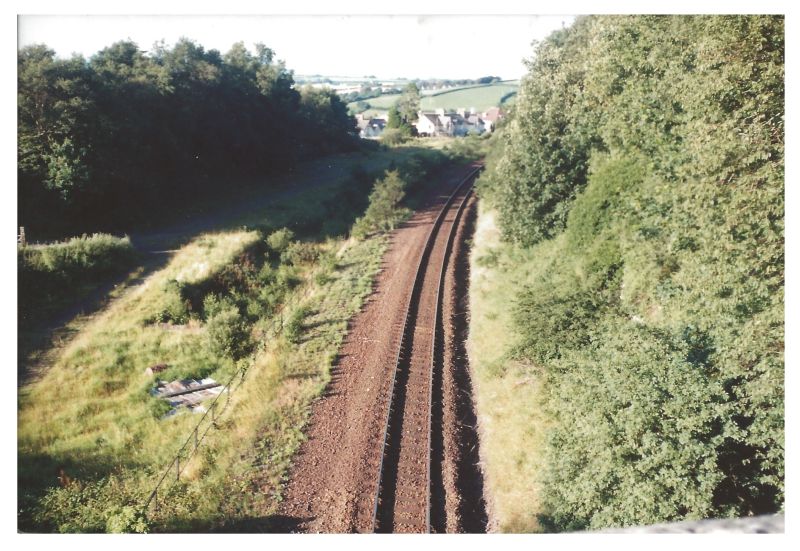 The site of the military sidings, from the Park Road/Tors Road bridge.
Photographer: Colin Burges
Date taken: 08/08/1991
North Tawton July 7th 1991
Colin writes " ..not long after the line had been lifted to accommodate the new road bridge. Then, without the lineside growth, the impression of Devon's longest straight was still strong. This is a lasting memory from my boyhood: sitting behind the driver of a D.M.U. and seeing the double line dipping and rising ahead on a journey to Plymouth"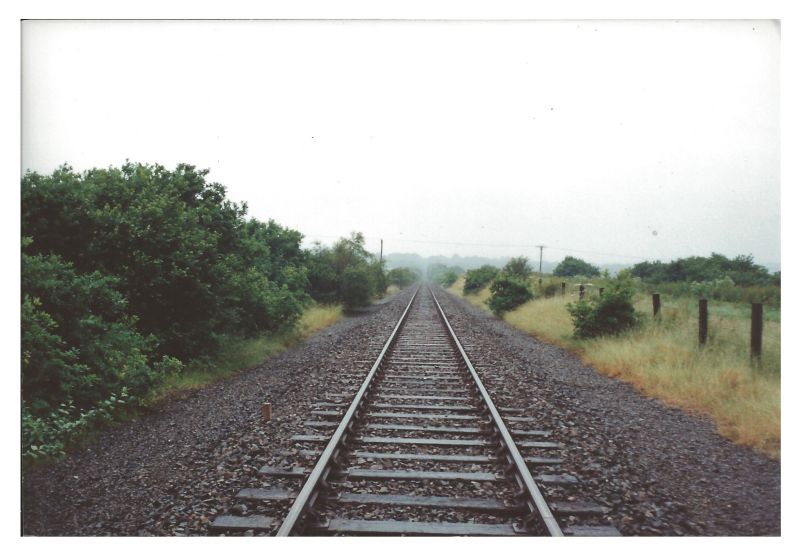 Photographer: Colin Burges
Date taken: 07/07/1991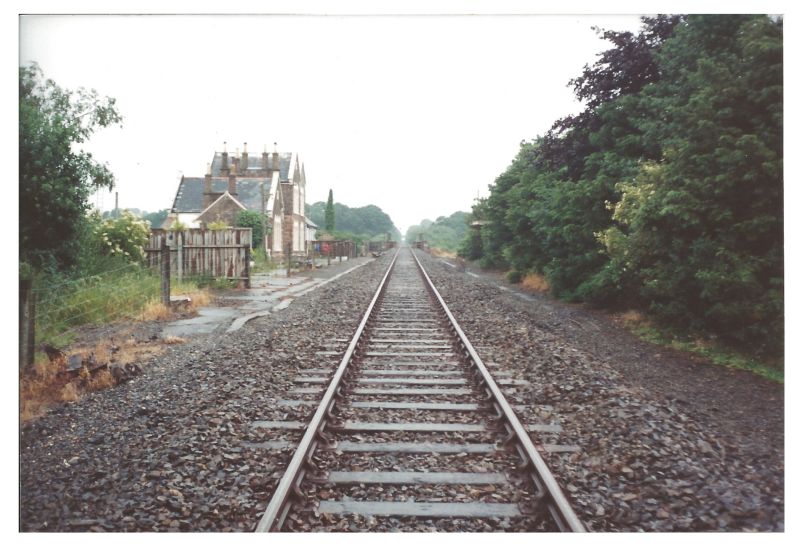 Photographer: Colin Burges
Date taken: 07/07/1991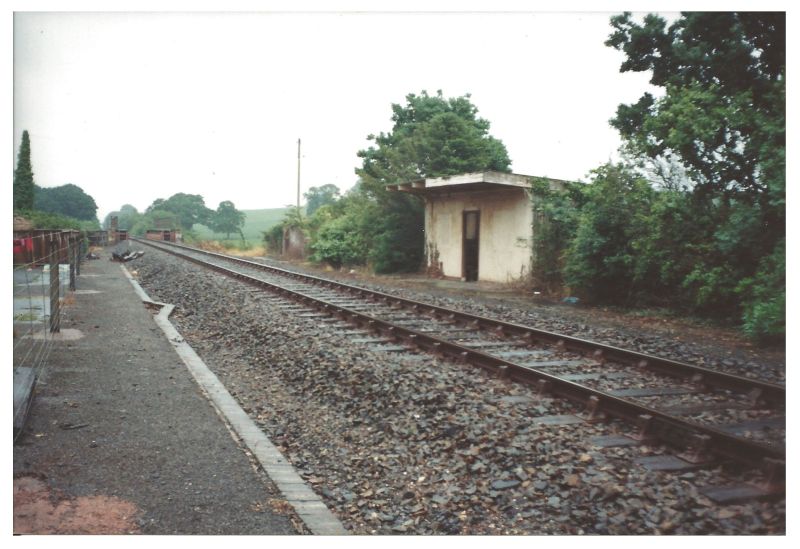 Photographer: Colin Burges
Date taken: 07/07/1991
Okehampton 1986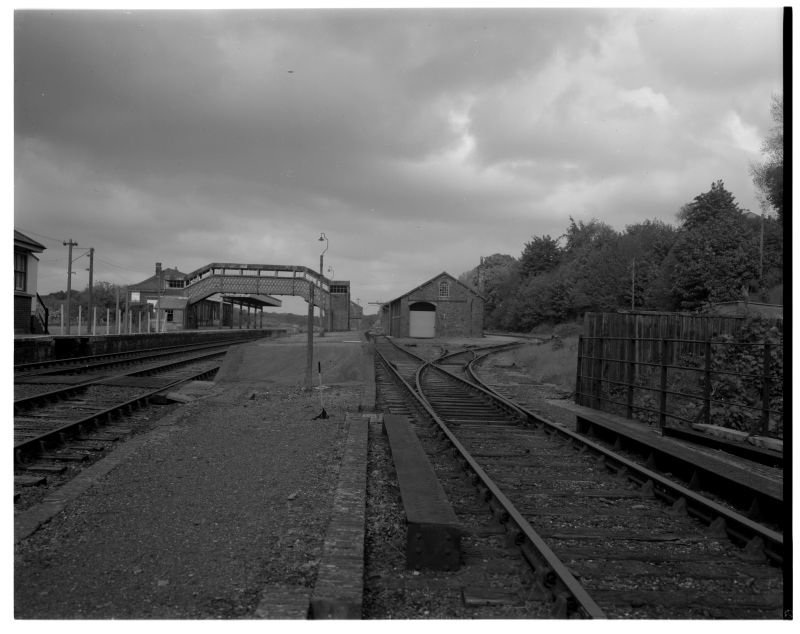 The goods shed, still surving albeit now as a Youth Hostel, with a siding passing behind it.
Photographer: Mr Bowden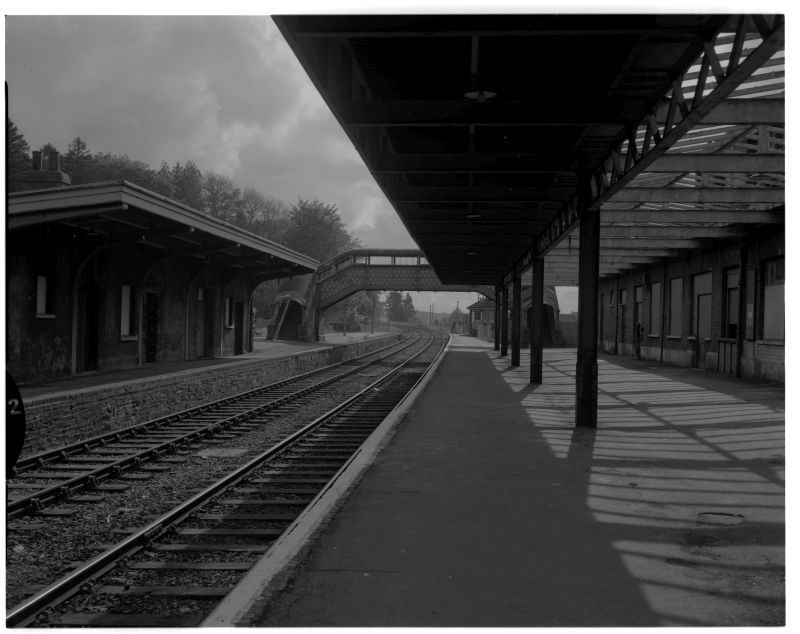 Okehampton Station in 1986, pending better times
Photographer: Mr Bowden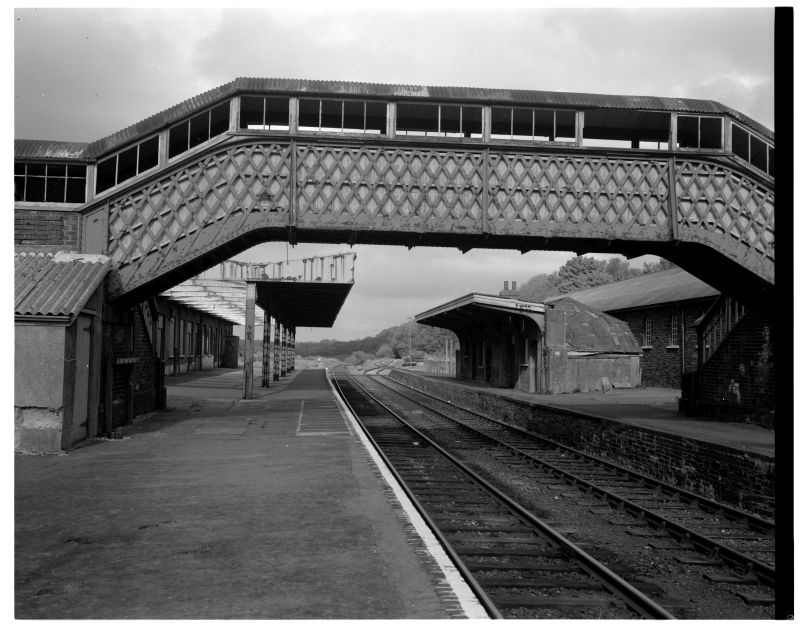 Okehampton station in 1986(?) showing the unrebuilt Platform 2 buildings, sidings where the cycle hire business now operates, and window frames in the footbridge.
Photographer: Mr Bowden
DMU charter 1978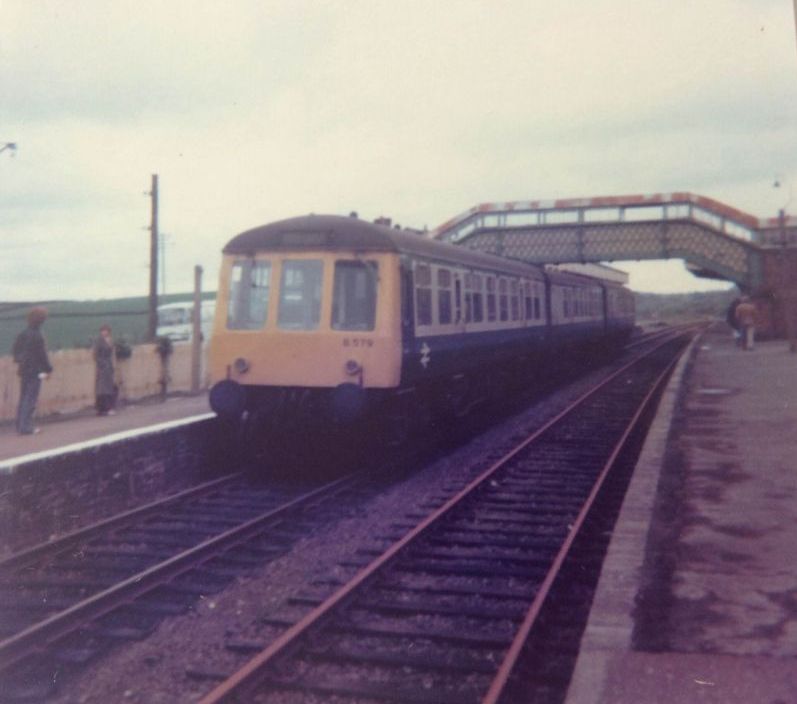 On a Sunday in May 1978, the 1030 from Exeter Central, a 3 car DMU (class 119?), waiting at Okehampton before returning to Exeter; one of a series of Charter trains then run by Transport 2000.
Photographer: Tony Hill
The Last Down 'Brighton'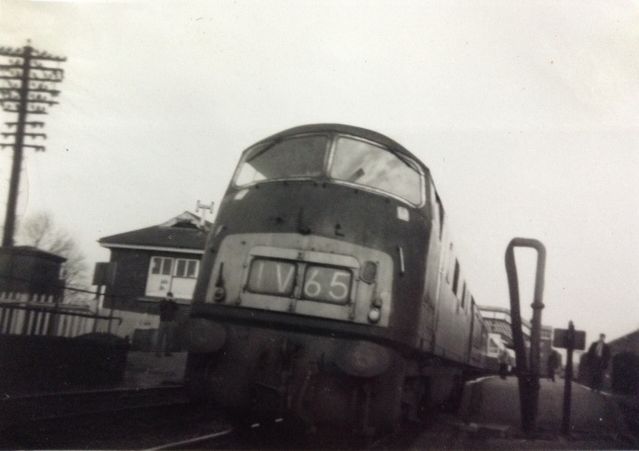 The last Down "Brighton" Sat 4 March 1967. D868 Zephyr waits time at Okehampton with the last 1012 Brighton to Plymouth 1V65, formed of 9 BR MK1 coaches including a Buffet car, in a mixture of SR Green and the then new BR Inter City Blue/Grey livery. Note the water crane still in situ. (4 March 1967 was also the date that the 0110 Waterloo to Plymouth Passenger & News, 1040 Plymouth to Brighton and 1650 Plymouth to Eastleigh ran for the last time, thus ending regular loco hauled services on the former Southern Exeter to Plymouth main line).
Photographer: Tony Hill
Date taken: 04/03/1967
Greyhound at Okehampton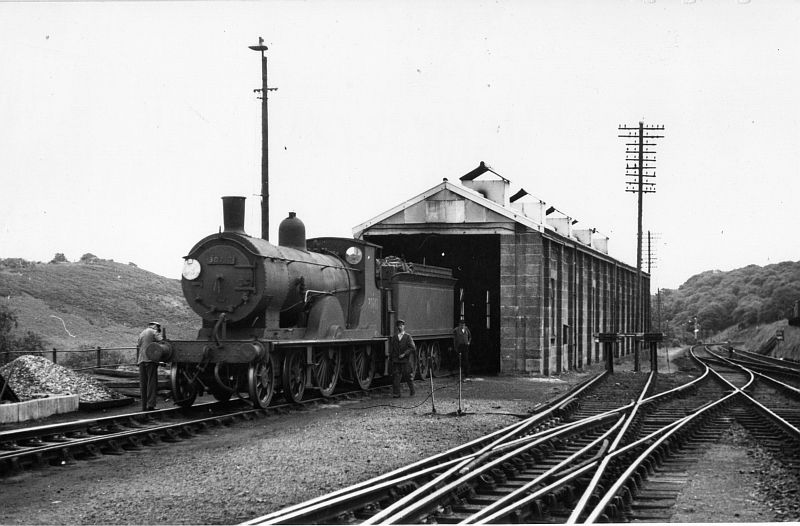 Ex-LSWR Drummond T9 4-4-0 no 30717 at Okehampton in June 1954. (Photo owner/copyright unknown).
Stations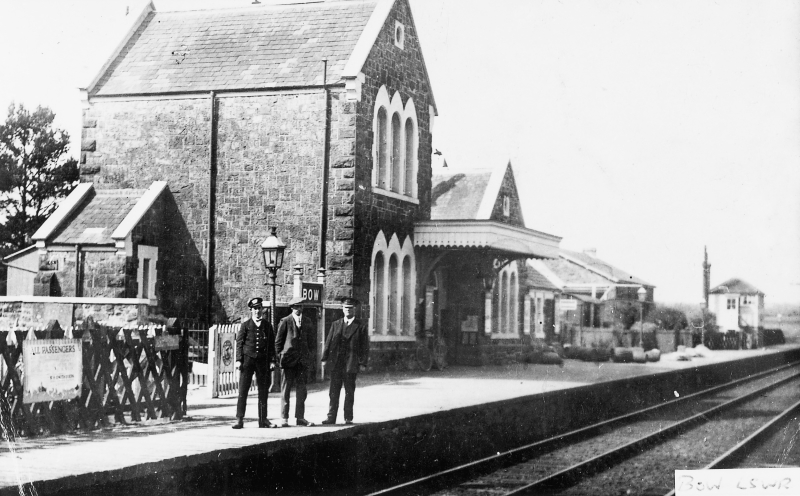 Bow station during the LSWR period (photo courtesy of Nicholas & Reeve, Irwell Press)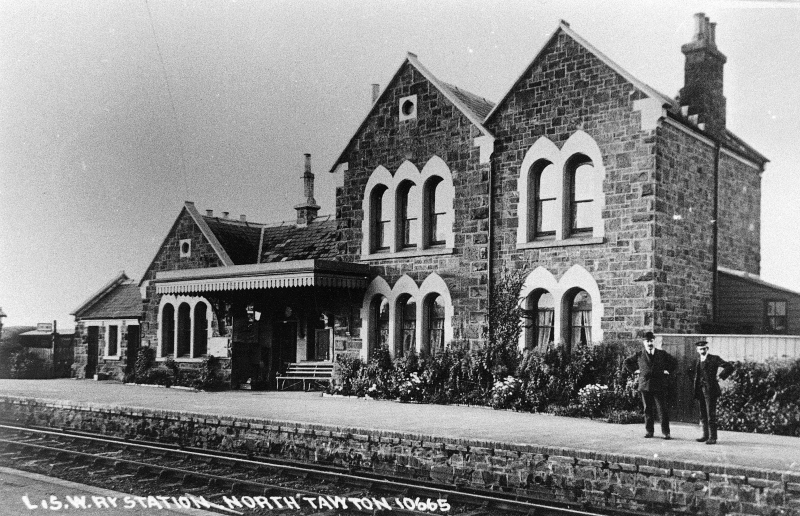 An early Edwardian photograph of North Tawton with stationmaster W.H. Odam in the bowler hat. (Photo David Howe collection, courtesy of Nicholas & Reeve, Irwell Press)