The Dartmoor Line
[Mileages stated are from Waterloo]
The Dartmoor Line is the stretch of line which extends about 13.5 miles from the site of the former Coleford Junction (183m 76c) to Okehampton Station. Beyond Okehampton there is a further 2 miles of railway to Meldon Viaduct, just beyond the mothballed Meldon ballast quarry.
From 1997 to 2021 the entire 15.5 miles was known as the Dartmoor Railway, and was owned by Aggregate Industries and their predecessor organisations, having been transferred from British Rail in the 1990s. The Dartmoor Railway was operated by various organisations including Ealing Community Transport and British American Railway Services, a UK company owned by the US group Iowa Pacific Holdings. In 2020 the BARS/IPH empire failed, and in 2021 the line was transferred to Network Rail.
These days the name Coleford Junction is a misnomer; the junction was removed several years ago. The Dartmoor Line and Tarka Line now run parallel to Coleford from a junction immediately west of Crediton Station (179m 28c), before diverging and heading to Okehampton and Barnstaple respectively.
The Dartmoor Line is single-track from Coleford to Okehampton, with operation controlled by a staff normally kept at Crediton signal box.
The Okehampton and Meldon area, and the entire railway back to Coleford Junction, is contained on Ordnance Survey 1:25000 Explorer Map 113. Please note that the railway east of Okehampton is not very accessible.
Stations:
Yeoford (182m 79c).
Between Crediton and Coleford, Yeoford has 2 platforms, an active one serving Tarka Line trains and a disused one for the line to Okehampton.
Bow (187m 62c).
Some distance from the community it served, disused and in enthusiastic private ownership. There is further information on the
owner's website
.
North Tawton (190m 72c).
Some distance from the community it served, disused and in private ownership.
Sampford Courtenay (193m 58c)
The Devon & Cornwall Railway reached Sampford Courtenay, 10 miles from Coleford Junction, in 1867 though the station at that time was called Okehampton Road and was also later briefly called Belstone Corner. A relatively modest single storey station building was constructed on the up platform, with a stone waiting shelter on the down platform. The station became an unstaffed halt in 1964, and closed to passengers in 1972. Today little remains of the station buildings.
Sampford Courtenay was used both by the GWR/Devon County Council Sunday Rover service (1997-2019) and occasional Dartmoor Railway heritage services in DR days.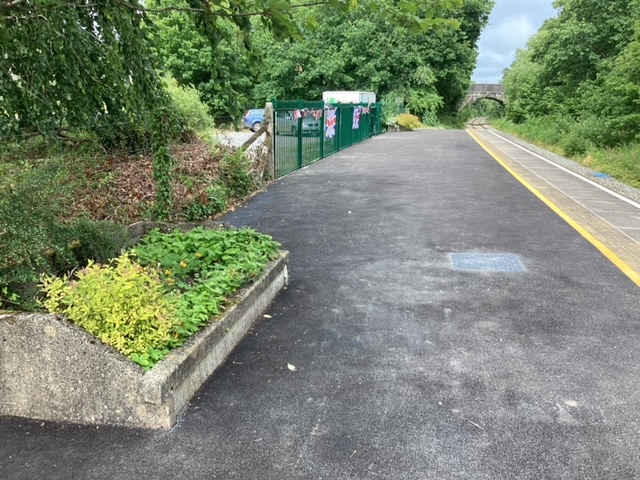 Sampford Courtenay station following its Network Rail renovation
Photographer: Tony Hill
Date taken: 09/06/2022
Sampford Courtenay station July 2022 update
Members of Sampford Courtenay Parish have, since 2021, taken over looking after their local station. A sub committee of the Parish Council called Sampford Courtenay Environmental Sustainability (SCENSUS) has spearheaded a project to adopt the station, initially by keeping the station tidy and weed free, and providing a floral display in the two former Southern Railway concrete fly packing chipping bins on the platform. The
village website
has more details, and there's also a news item
here
.
Under Network Rail a new fence with locked entrance gates has been erected. The station was tidied up following its use in 2021 as a base for some of the works undertaken to reopen the line, to such an extent that the contractors resurfaced the platform with tarmac, realigned the tactile paving slabs, whitened the platform edge and even painted a yellow line; giving the impression of an open station, which is of course not the case.
A licence has been granted to the group by NR and various funding streams have been pursued, some of which have been successful, to pay for plants etc. It is planned, amongst other things, to install a Heritage Information Board.
Despite understandable local aspirations, currently there are no serious plans for trains to call again at the station. There are plans for a new station on the eastern side of Okehampton (close to the A30 junction) to provide a parkway facility. The current three minutes spare running time between Crediton and Okehampton and vice versa, is in anticipation of all trains calling at Okehampton Parkway station.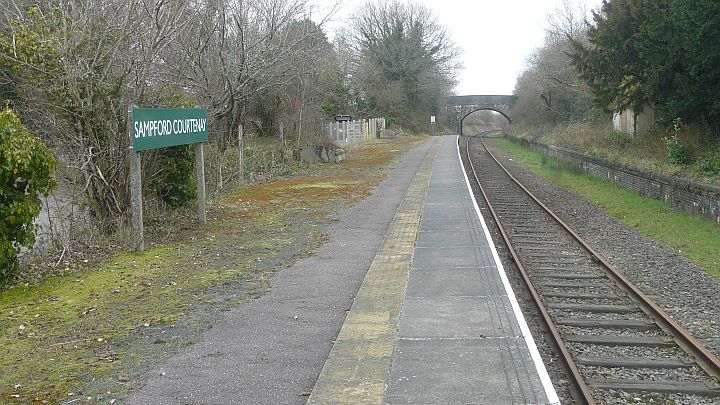 How Sampford Courtenay station looked a decade ago after a pre-season tidy-up by the DRSA Station Maintenance team.
Photographer: Geoff Horner
Date taken: 02/03/2013
Between Sampford Courtenay and Okehampton the line crosses the 5 arch stone Fatherford Viaduct (bridge 608 at 196m 45c) over the East Okement river.
Okehampton (197m 25c)
Services to Okehampton began on 3rd October 1871 and it grew into an important junction station. The station was redeveloped into its present format during the early 1930s. The engine shed, turntable and water tower were located at the east end of the station, the area now occupied by the car park. The original 1871 signal box on Platform 2 was replaced with a brick-built structure on Platform 3 in 1935 which remains to this day.
The station fell into disuse after the withdrawal of passenger services on 5th June 1972. However, following significant refurbishment Okehampton station officially reopened on 24th May 1997. Today Okehampton Station platform 3 and buildings (up side) are owned by Network Rail, and platforms 1 and 2 and buildings (down side) are owned by Devon County Council. The former goods shed is now a Youth Hostel.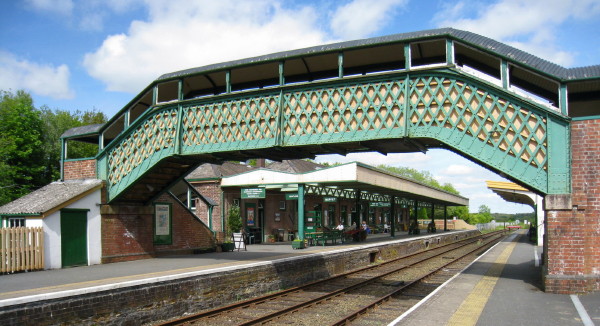 Okehampton station in typical weather
Photographer: John Caesar
Beyond Okehampton towards Meldon Viaduct is the site of the former military sidings, which was the nearest point on the railway to the large military camp on the moor above. Troops, munitions, horses and ordnance were loaded and unloaded here in vast numbers. From 1960 to 1964 a car carrier service operated on Saturdays from Surbiton (in southwest London), and cars were loaded and unloaded at the military sidings.
Meldon Viaduct Station (199m 29c)
The quarry at Meldon, about 2 miles beyond Okehampton, was purchased by the London & South Western Railway in 1897 to provide track ballast. A small station was constructed during the 1920s for quarry staff. The current station is in a slightly different location, and was opened in 2000. Meldon Quarry signal box, now no longer present, opened in 1903 and closed in 1970. A unique feature was the steel mesh over the windows to protect the box from flying debris during blasting in the quarry.
Stone trains continued to operate to Meldon until the quarry was mothballed in 2011, soon after BARS took over the DR. The name of the station was changed from Meldon Quarry to Meldon Viaduct in July 2015.
Meldon Viaduct Station remains part of the railway estate, but currently unused.
Note that the quarry is Aggregate Industries' property and subject to quarry safety regulations. Please don't trespass.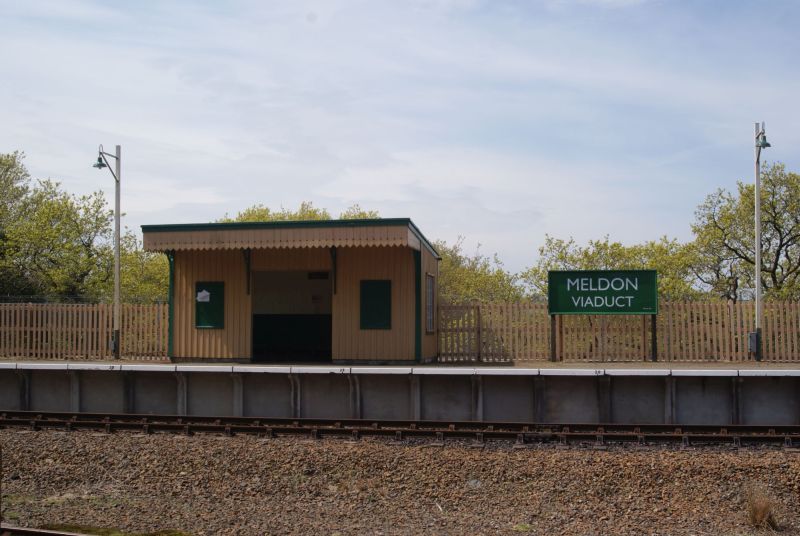 Photographer: Jon Kelsey
Date taken: 07/05/2016
Beyond Meldon, the
Granite Way
cycleway and walking trail continues across
Meldon Viaduct
which spans the valley of the West Okement, an area rich in limestone, copper and aplite mining remains from previous centuries. (More details in our
Exploring Meldon

(277Kb)
info sheet).
The Granite Way proceeds along most of the former trackbed for about 8 miles as far as Lydford. Shortly after the viaduct is the site of Meldon Junction, where the line to Halwill Junction and onwards to Padstow and Bude once branched off. The former main line to Plymouth continued through Lydford, Tavistock and Bere Alston, and may one day do so again (see
here
). Meldon Summit, to the west of Meldon Junction, was the highest point on the line and also the highest point on the whole of the Southern Railway at 950 ft (290 m) above sea level.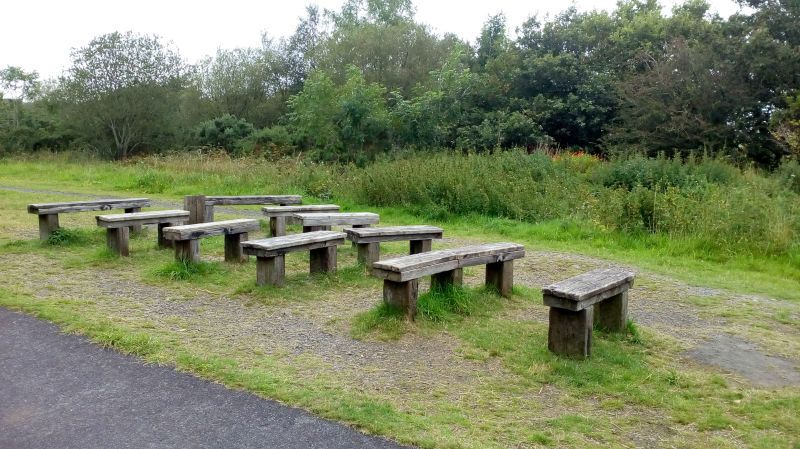 Meldon Junction, remembered in benches. Sadly the route to Halwill is blocked.
Photographer: Jon Kelsey
Date taken: 25/08/2019
---
A few slightly more technical notes:
[Gleaned from various NR Western and Wales Area Weekly Operating Notices with the help of Chris Bellett, to whom we extend our thanks]
Alterations to Method of Signalling
The 'Crediton – Okehampton' train staff will be replaced by a metal token (red colour – pattern A) normally kept in a token instrument in Crediton signal box. The section signal (CN4) may be cleared for a train to proceed when the token is withdrawn from the token instrument.
Okehampton platform length
The operational length of the platform at Okehampton will be reduced to be 100 metres (measured from the top of the ramp at the Crediton end).
Level Crossings
New whistle (W) boards have been provided on either side of Park No.2 level crossing (179m 54ch) on the Okehampton and North Devon single lines.
The following footpath (FP) and user worked (UWC) level crossings have been upgraded to Overlay Miniature Stop Light (OMSL) type, with red (do not cross) and green (safe to cross) warning lights, telephones and signs giving instructions to users. The lights are activated by wheel sensors that operate in a similar way to axle counters; when they detect a train they set the lights to red, after the train hits the strike out sensor the lights go to green:
Penstone FP (EX17 5JS) 184m 00ch
Colebrooke Two Moors Way FP (by Waterford Plantation) 185m 41ch
Landsend UWC (near to Landsend Lane) 186m 15ch
Common Moor 1 UWC (EX17 6JA) 187m 04ch
Buttisland UWC (Butterlands Park Farm access road) 188m 03ch
Corscombe UWC (EX20 1SD by Corscombe Lane) 194m 66ch
Speeds
Until further notice a temporary speed restriction (TSR) of 55 miles per hour applies to passenger trains, (loaded or empty) and light locomotives between Crediton (facing points 23A) and 195m 00ch. A 30mph TSR applies to all other trains. A differential permissible speed of 30/45 mph will apply between 195m 00ch and a 25mph permissible speed which starts at the Crediton end of Okehampton.
Method of working
One-train working regulations apply between Crediton (facing points 23A) and Okehampton. A train staff labelled 'Crediton–Okehampton' has been provided and normally kept in Crediton signal box. The start of one-train working will be indicated by a line side sign, just the Meldon side of facing points 23A (approximately 177m 30ch). The section signal leading onto the single line at Crediton will be CN4. In the other direction, the home signal will be CN3.
Route Notes
The line of route GW608 has been extended to include the former Dartmoor Railway from former Coleford Junction (183m 69ch) to Meldon Quarry. The single line between Crediton and former Coleford Junction will continue to be known as the Up/Down Okehampton line. Beyond former Coleford Junction, and to Meldon Quarry, the line will be known as the Up/Down Dartmoor single line. From Crediton, the down direction is now Okehampton.
Until further notice train movements are prohibited begond stop board CN102 at the Meldon Quarry end of Okehampton (197m 28ch). A fixed distant signal (CN100) will be provided 510 metres on approach to the stop board. A permanent Automatic Warning System magnet has been provided 150 metres on approach to CN100.