Arthur Westlake 1918-2011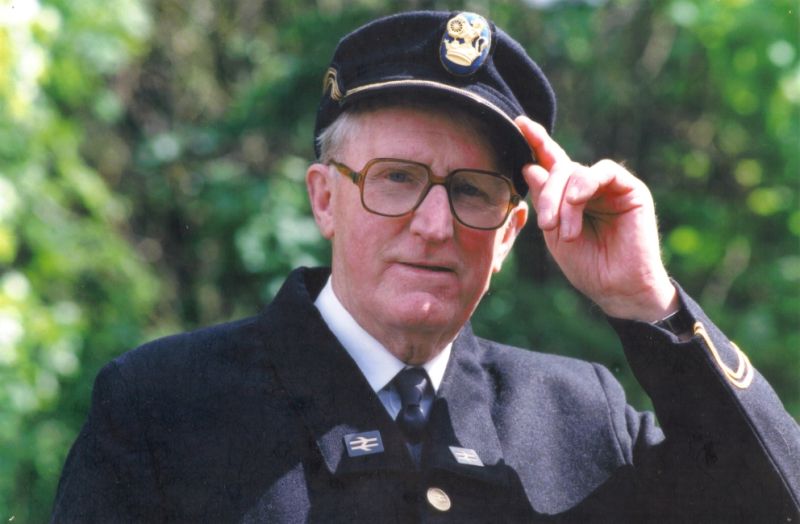 Arthur was born on 24th October 1918 at Black Torrington. His father was a trackman working on the Halwill to Bude railway.
He went to school in Halwill and at the age of 15 he followed in his father's footsteps by joining the Southern Railway at Yeovil as an engine cleaner. He moved to Launceston in 1941 to work on the North Cornwall line on his beloved T9 locomotives. He worked his way up in the old tradition, becoming a fireman, then joining the elite as a driver.
He was married to Ethel in 1944, and at first they lived in Launceston, but then moved to Okehampton where they bought a house in Park View Terrace, overlooking the railway station.
During the Second World War he was in a reserved occupation and had some hair-raising experiences. At Southampton Docks during the Dunkirk evacuation, a bomb destroyed his engine and killed the driver. Later, at Gillingham, his train was attacked by a German fighter plane.
Throughout his railway career he was involved with steam locomotives and he was a Southern man through and through. Some of his warmest memories were driving the A4 "Mallard" and the Duchess Class "City of Bradford" on the exchange trials in 1948 at Exmouth Junction. He was one of the last of the line of steam drivers to work over the North Cornwall line to Padstow and Bude.
He left the footplate in the 1960s and became the superintendent of Okehampton station and a very effective business manager. He worked very hard to keep freight traffic and, to his credit, the station closure was delayed. He retired from the railway in 1980. When Okehampton station closed he was heart broken, but was delighted when it re-opened in 1997 and started a new chapter in its history.
He had a spell selling supplies to farmers, and for five years enjoyed talking to some real Dartmoor characters. When he finally retired he helped run a successful charity shop in Okehampton for the church. He loved visiting scrap yards and renovating furniture, sewing machines, vacuum cleaners and lawn mowers. He moved to Station Road, and would look after vegetable plots for other people when he was not mending clocks, watches, and generally putting things right.
Arthur passed away at Okehampton Community Hospital on 23rd October 2011, the eve of his 93rd birthday.