Rowtor Visit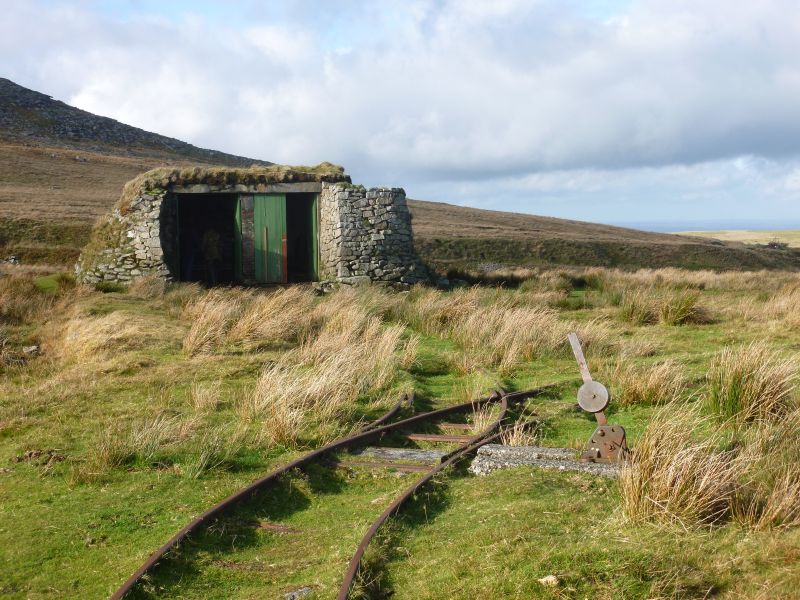 Rowtor traction maintenance depot.
Photographer: David Clegg
Date taken: 14/11/2018
On Wednesday November 14th, a small group of DRSA volunteers visited the Rowtor target railway. More properly called H1 Battalion Anti-Tank Range and Medium Anti-Tank Range, it is a 30 inch gauge line a few hundred yards long on the southern flank of Rowtor. It is dumbbell shaped, with a straight section paralleling an embankment for protection, and a loop at each end enabling continuous running. The line itself is readily accessible, but the DRSA group had been granted access to the 2 road shed at the west end of the line, where the Wickham target trolley is stored.
The group was met by Paul Fletcher of Landmarc, the service supplier which manages Dartmoor's military infrastructure, amongst many others. Paul provided a highly informative guided tour of the railway, part of which was a history of the line's Wickham trolley based on notes from Paul's colleague Richard Burt, reproduced in full
here
with kind permission.
By pure good fortune, our visit coincided with that of Nigel Sharpe, Senior Estate Surveyor responsible for MOD estates in the South West, who happened to be there taking photographs. Nigel supplied interesting background information, and subsequently pointed us at
this link
to the Historic England (successor to English Heritage) report on the railway. Other local ranges of interest are the
F Range Target Railway
and the
OP6 Incline Target Railway
It was a fascinating visit, helped by better mid-November Dartmoor weather than we dared hope for. We would like to express our gratitude to Crispin d'Apice, Army Training Safety Officer for West Devon, and Paul Fletcher and Richard Burt of Landmarc, for facilitating the visit. Also to Nigel Sharpe for the additional information. Last but not least, our thanks to DRSA's Tony Hill for organising it.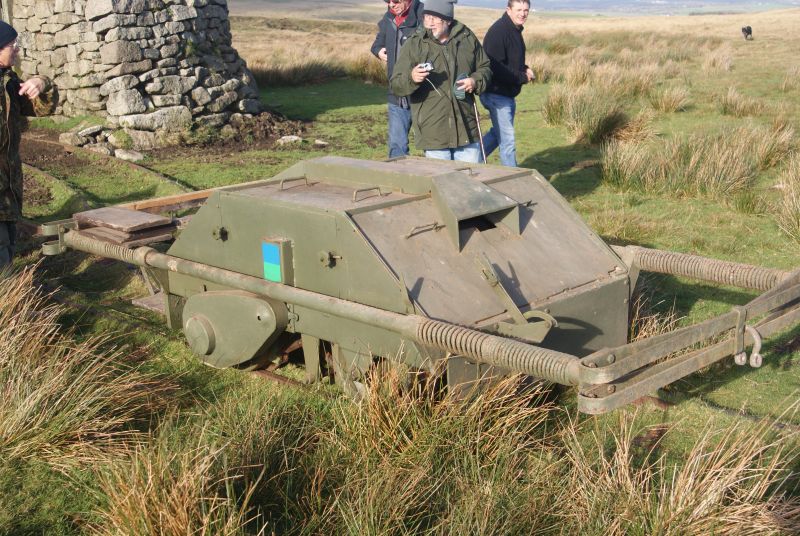 The Wickham target trolley.
Photographer: Jon Kelsey
Date taken: 14/11/2018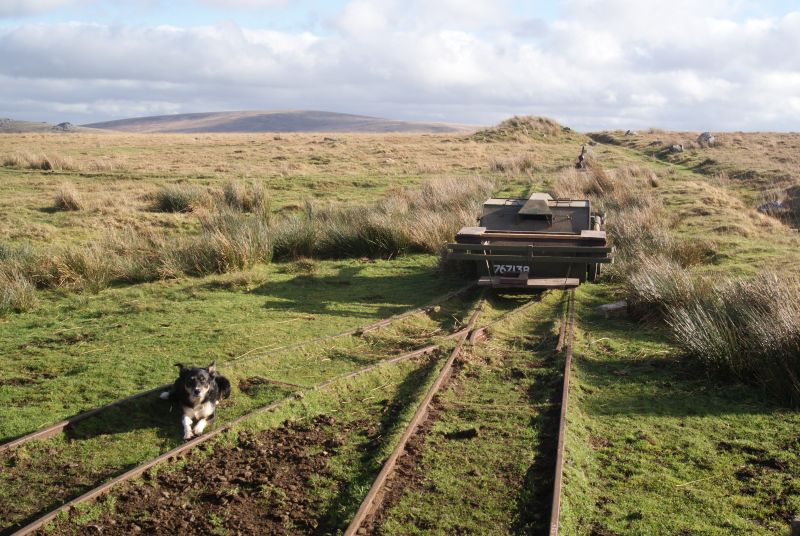 View east from the shed. The railway runs parallel with, and to the right of, the protective embankment seen starting in the middle distance. Firing was from the left. Cosdon hill is in the left background.
Photographer: Jon Kelsey
Date taken: 14/11/2018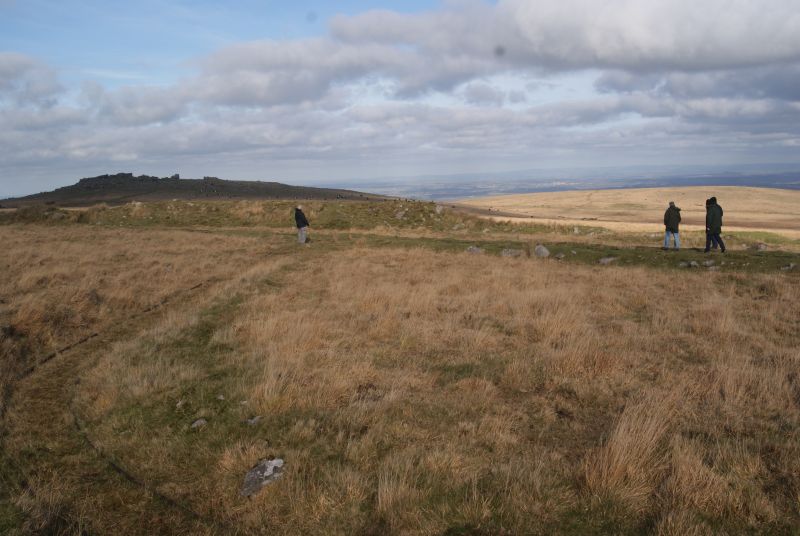 View north with DRSA members giving some scale to the eastern loop. Rowtor in the left background.
Photographer: Jon Kelsey
Date taken: 14/11/2018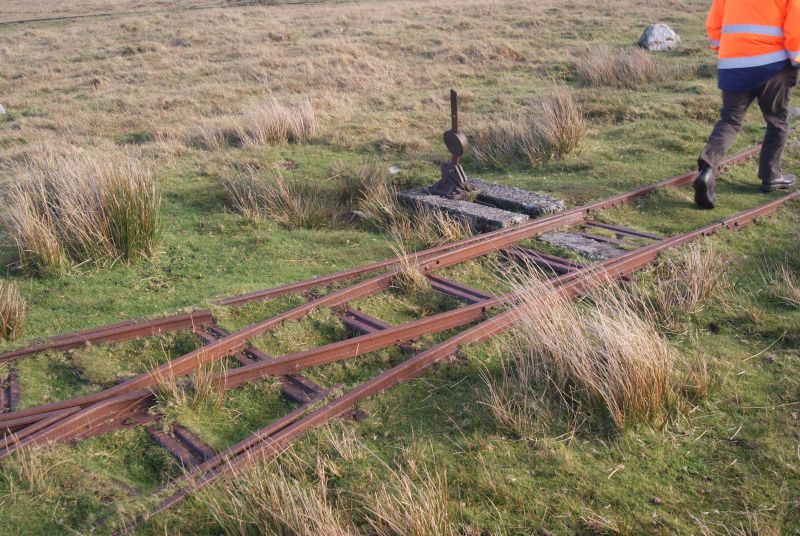 Permanent way close-up. Elsewhere the track has some grenade damage.
Photographer: Jon Kelsey
Date taken: 14/11/2018
The DRSA group starts to dismantle the Queen's Wickham.
Photographer: Jon Kelsey
Date taken: 14/11/2018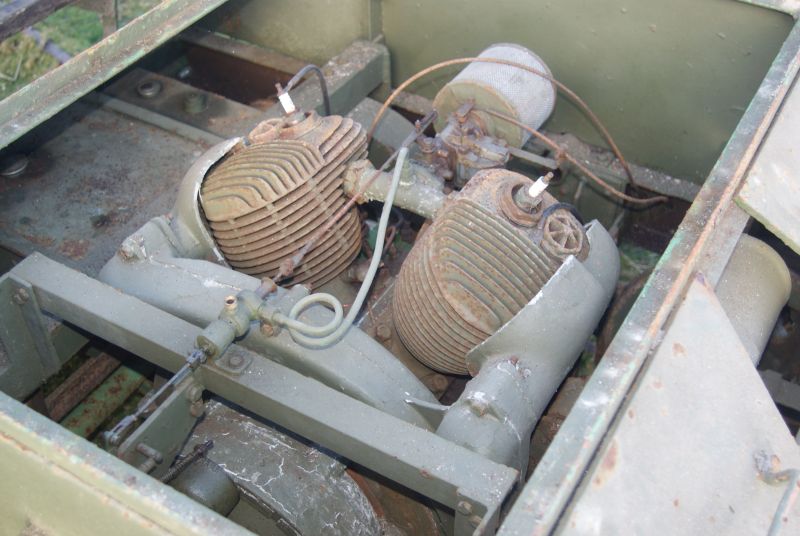 The trolley's V-twin JAP engine. On the rare hot days on Dartmoor, how hot did an enclosed aircooled engine get in a slow moving vehicle?
Photographer: Jon Kelsey
Date taken: 14/11/2018