D4167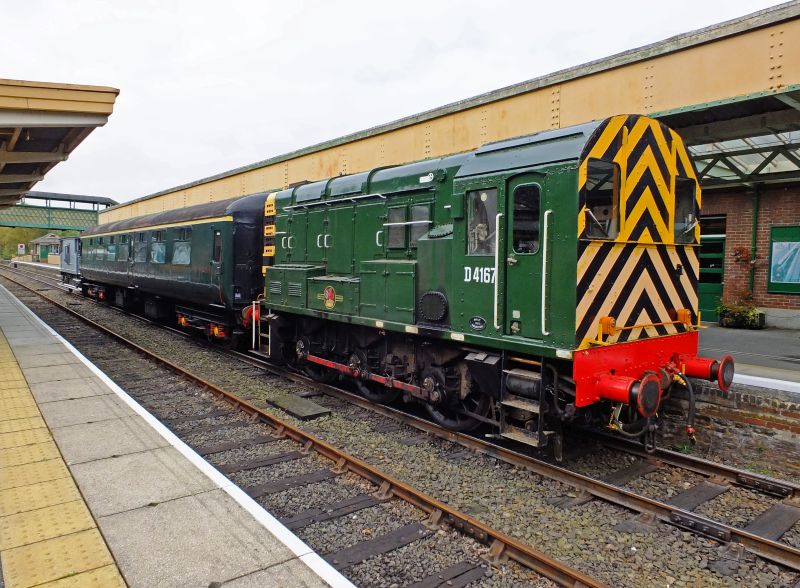 LMS brake van 731411, FK 13436 and class 08 D4167. High time we finished repainting the wasp stripes.
Photographer: Philip Wagstaff
Date taken: 17/10/2015
08937, originally numbered D4167, was built at British Railway's Darlington works and entered service on 24th May 1962 at Laira. During its time with the Dartmoor Railway it carried the name 'Bluebel Mel'.
It has a 350 horsepower English Electric 6KT 6 cylinder diesel engine of approximately 90 litres capacity. It weighs 49 tons and has a maximum speed of 15 m.p.h.
996 Class 08 shunters were produced between 1952 and 1962, and over 60 examples have been preserved, making them the most numerous class of preserved locomotive in the UK. Around 100 are still operational on industrial sidings and the main British network.
On 6th December 1969, D4167 was allocated to Newton Abbot. Following the introduction of the BR TOPS scheme, it was renumbered 08937 in March 1974.
On 22nd March 1975, 08937 was reallocated back to Laira though remained working in the Newton Abbot area and in April 1975 air brakes were fitted. From the 1980s onwards it could be found working in the Exeter area including Riverside Yard, City Basin, and short trips to Exmouth Junction where the wagon repair shop was located.
Towards the end of its working life for BR, 08937 was based at Meldon Quarry. BR sold the quarry in 1994 and 08937 transferred into the care of the new quarry owners Camas (later Aggregate Industries). In 2000, 08937 worked the first Dartmoor Pony services between Okehampton and the new station at Meldon Viaduct.
A photo of it in service in the early days of the Dartmoor Railway can be seen
here
. It's the fifth photo down the page.
Owner:Aggregate Industries
Condition:Operational
Return to
stocklist
.