Work In Progess archive page 5 (2021)
A mooch around Meldon, December 15th 2021
Not really 'work' as such, because there wasn't anything useful we could do, but four of us - three stalwart C&W volunteers and the website editor - visited Meldon on Wednesday morning. The vibe was a tad less upbeat than that of Okehampton.
The quarry site was pretty busy. A Network Rail group was working on scrap track, a lorry load of which was just departing as we arrived. How many lorry journeys are needed to remove a 15 mile railway? Elsewhere a well attended RIG Systems exercise was taking place. Aggregate Industries staff were also present.
The various bits of old mining equipment which used to lurk in the undergrowth near the former signing-on point, along with the crane which arrived a few years ago, are now on display in the open area behind the SR building where everyone parks. Let's hope this signals AI's interest in Meldon's quarrying history.
Three of our vehicles have been shunted into a siding at the NE end of the site. After very little attention for the last couple of years, they look a bit down at heel, made worse by the unattractive surroundings, but the work needed to refresh them is mostly cosmetic. The FK has some grafitti and needs work on some windows, rust patches are visible on Lab 11 and the paintwork on the LMS brakevan is starting to peel.
Only two other rail vehicles are visible. The privately owned class 117 centre car 59520 looks pretty sorry for itself, but seems to have been positioned for removal. 10842, the former Wickham trolley which was converted to a trailer after a prang, is parked in front of the workshop doors, piled high with junk which was once used to entertain Polar explorers. The word is it's been sold. It's a nice little project for someone who can source a suitable engine and transmission bits.
We couldn't view the contents of the workshop building, as RMS Locotec have taken it upon themselves to change the locks. We hope our SR brakevan and all our tools are still in there, along with AI's class 08 D4167.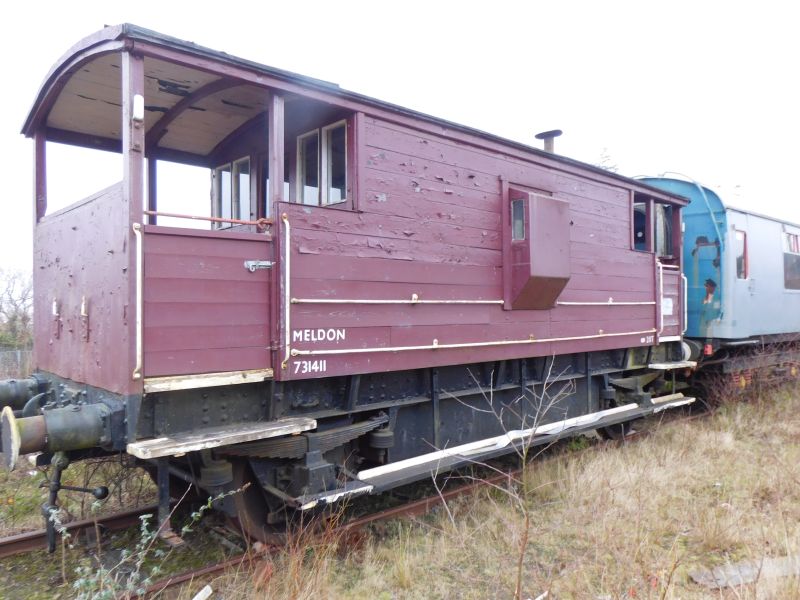 LMS brakevan 731411 at Meldon. Paintwork is starting to peel, especially on the original wood.
Photographer: Jon Kelsey
Date taken: 15/12/2021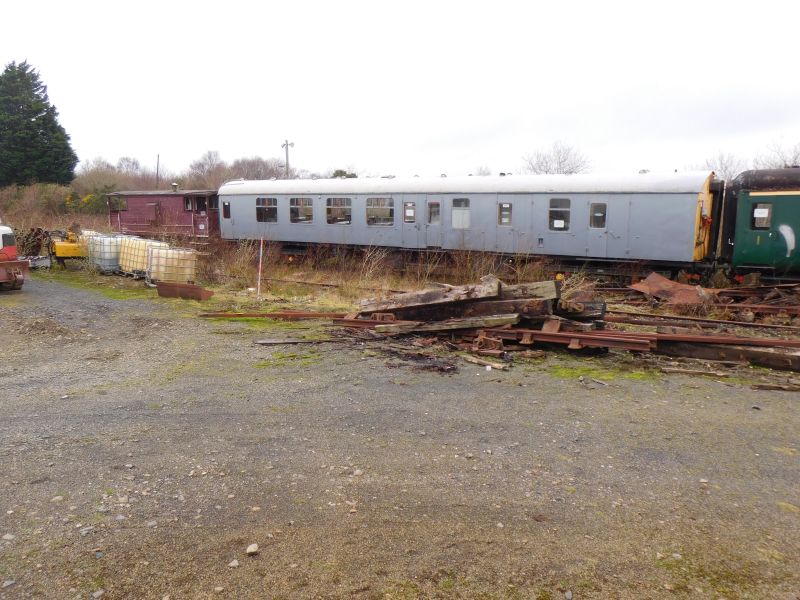 Our stock at Meldon. LMS brakevan 731411, Lab11 looking unfamiliar in primer, and the end of the FK, 13436.
Photographer: Jon Kelsey
Date taken: 15/12/2021
JK
Carriage and Wagon September 8th 2021
A team of volunteers descended on Meldon to put a tarpaulin on the roof of our SR brakevan LDS 55625. Its unfinished roof isn't weatherproof, and there were concerns that it might find itself outside the shed at short notice, exposed to the Dartmoor weather.
Whilst we were there, the CCT (94691) and Ferryvan (DB889022) departed on a low loader. Apparently the former Meldon buffet coach (69310) had left earlier.
Meldon yard wasn't looking at its best.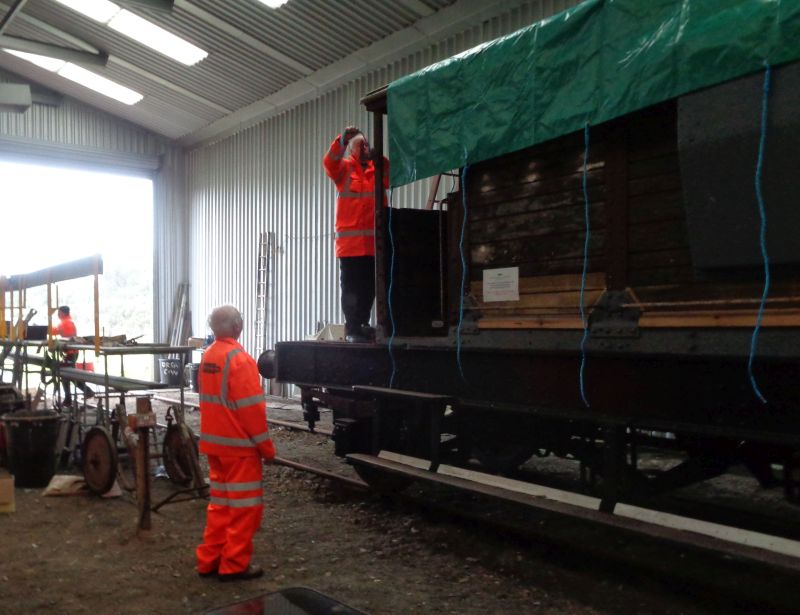 The C&W team putting a tarpaulin on LDS 55625
Photographer: David Bell
Date taken: 08/09/2021
JK
Station Maintenance June 2021
The main SMT activity in recent weeks has been the clearance of platform 3 and (re) management of our storage areas for the ongoing works starting very shortly on the up side station building and platform 3. This has involved moving quite a lot of stuff around but we seem to have got there more or less on schedule. What we don't need for the next few months is hopefully stored safely and other items we do still need are accessible on the down side. Although we may still get caught out somewhere.
Despite this, painting of the down side has continued. Mainly the canopy underneath and on the ends and also on footbridge sides. The lamp posts on platform 3 are now down and we have nearly retrieved all the fittings. There are some yet to get subject to site access via the NR compound.
For the last 2 Wednesdays of the month we had visits by NR Materials Recovery trains topped and tailed by Colas class 70s. (See also
Seen At The Railway
). On the 30th 70811 came to join us at our afternoon tea break along with two of its drivers during their crew change.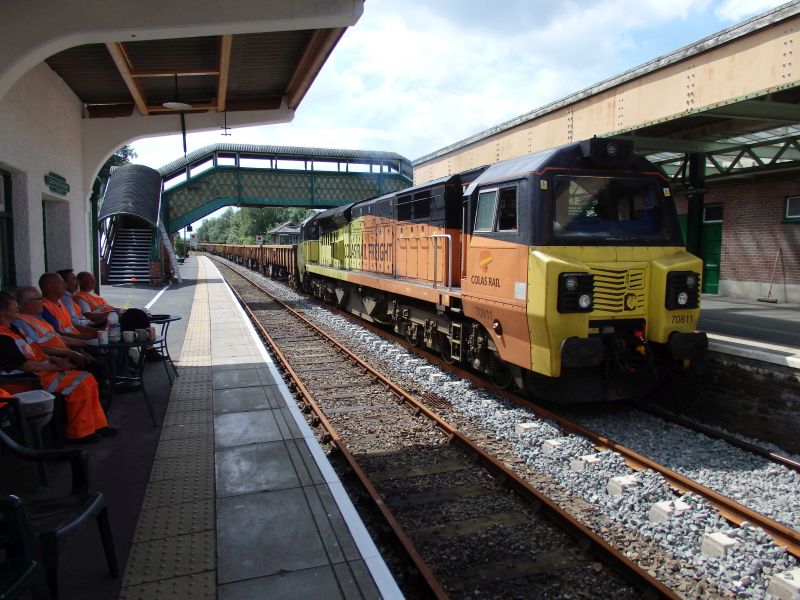 70811 comes to tea.
Photographer: Tom Baxter
Date taken: 30/06/2021
Station Maintenance May 5th 2021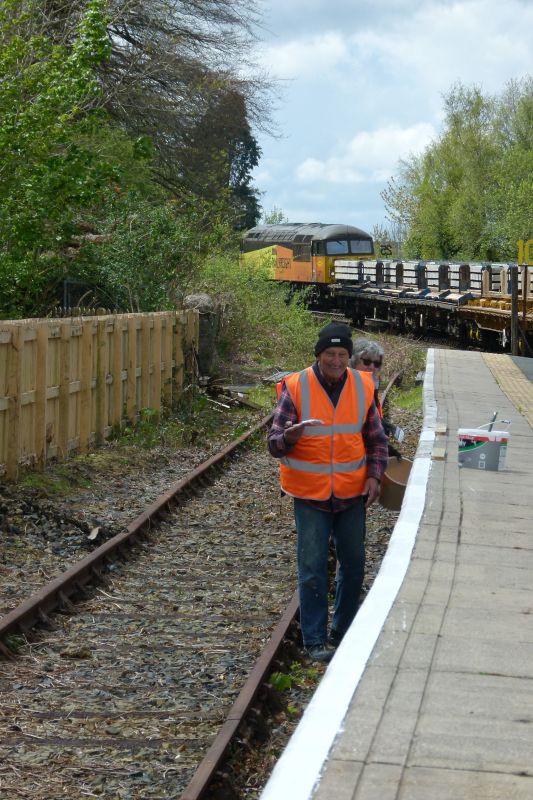 Platform 1 white edging being refreshed
Photographer: Dave Ellis
Date taken: 05/05/2021
Station Maintenance April 21st 2021
A warm sunny day. Well, most of the time. Lots of Network Rail activity, including the mid-morning departure of 56302 propelling over 1000 tons of concrete sleepers down the line. A volunteer turnout in double figures. All of which added up to an interesting day with plenty of buzz and lots of work done.
There's never any shortage of painting; today's was the platform 2 fence, and the lean-to building on platform 3. Another group worked on the refurbishment of platform 2's under-canopy lights, whilst others were gardening or clearing vegetation in the empty bay siding. Some storage space has become available, and a start was made on relocating the stuff stored in the museum and getting it ready for the public. A couple of pics: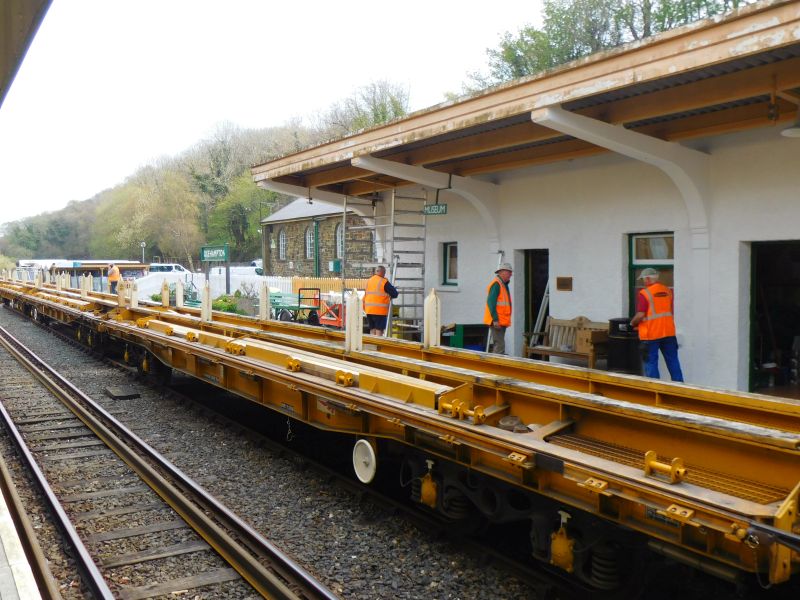 Various volunteer activities taking place on Platform 2. In the foreground, a rake of Network Rail's KRA sleeper carrying wagons.
Photographer: Jon Kelsey
Date taken: 21/04/2021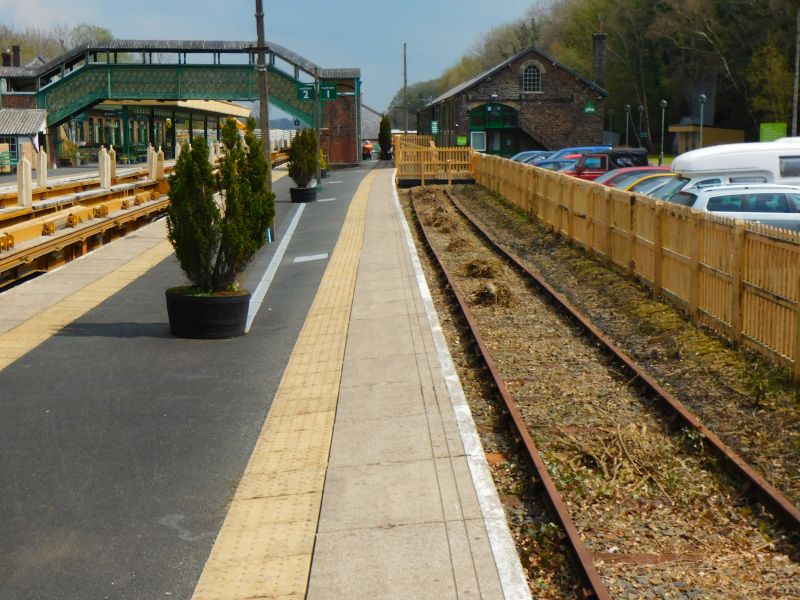 It's difficult to get used to the image of the empty bay siding. Hopefully we won't have to.
Photographer: Jon Kelsey
Date taken: 21/04/2021
JK