The Dartmoor Railway Association
The Dartmoor Railway Supporters' Association (DRSA) was formed in 2009 to support the Dartmoor Railway. In 2020 the Dartmoor Railway Community Interest Company went into administration and the Dartmoor Railway effectively ceased to exist. Subsequently ownership of the Aggregate Industries owned line was transferred to Network Rail to enable the reinstatement of an Exeter-Okehampton service operated by Great Western Railway. In preparation for the new challenges ahead, DRSA renamed itself Dartmoor Railway Association (DRA) in May 2021.
The objectives of DRA are:
1. To record and promote interest in Okehampton area railway history.
2. To support the 'Dartmoor Line' Exeter - Okehampton rail service, and Okehampton Station.
3. To explore the possibility of operating heritage rail services between Okehampton and Meldon Viaduct.
4. To support the Northern Route initiative, i.e. the reinstatement of the entire former London and South Western Railway Exeter - Plymouth route.
Membership
Volunteers need to be DRA members, but we are also very keen to attract members who are not in a position to volunteer but who wish to support the association's activities and be kept up to date with developments. Members receive the
Pony
illustrated magazine and Pony Express newletter. We endeavour to produce one or other of these whenever there is significant news to share with members, but whilst the railway's future is being decided, and Covid-19 restrictions apply, it isn't possible to commit to a specific annual number of issues.
All members are welcome to attend our monthly evening get-togethers, at the Taw River Inn, Sticklepath, EX20 2NW on the 1st Wednesday of the month. (Reinstated from July 2021 after being suspended due to Covid restrictions). See the
events page
for details.
We have a youth membership for 14 & 15 year olds. Individual membership costs £17, joint membership £23 and youth membership £10. Membership is for a calendar year - if joining after July 1st these prices are halved, i.e. £8.50, £11.50 and £5.00 respectively. New members joining after November 1st secure membership to the end of the following year.
For more details of volunteering, see the
Volunteering
page.
For further information on membership, please contact the Membership Secretary, Geoff Horner, 11 Collatons Walk, Bow, Devon, EX17 6LS, email
g.horner936@btinternet.com
, or download an application form:
DRA membership application

(69Kb)
DRA constitution

(96Kb)
.
DRA GDPR statement

(97Kb)
.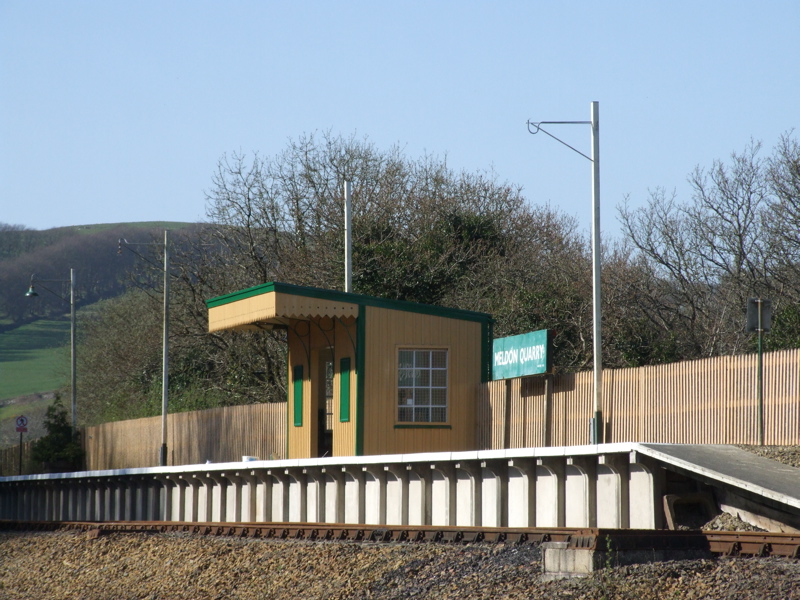 Meldon Quarry Station, since renamed Meldon Viaduct
Photographer: Phil Wagstaff
Date taken: 29/03/2011